A VIRTUAL BOOK TOUR
BROUGHT TO YOU BY
PUMP UP YOUR BOOK
Book Tour April 3 – 28!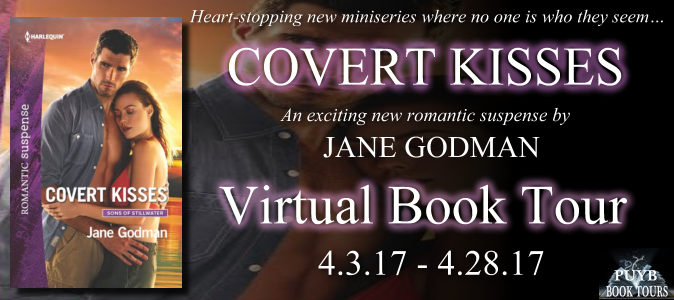 Inside the Book
Title: COVERT KISSES
Sons of Stillwater
Author: Jane Godman
Publisher: Harlequin
Pages: 288
Genre: Romantic Suspense
Coincidence? The beauty who washes up on Mayor Cameron Delaney's private beach eerily resembles his dead girlfriend, Carla. But Laurie Carter, Carla's lookalike cousin, is actually an undercover detective. She's on the job, investigating Cameron's connection to a human-trafficking ring. Laurie knows she must keep her cover—but she's struggling to deceive the man she finds irresistible…
When Cameron discovers why Laurie is in town, he's furious to realize he's being framed—and stunned at his sudden feelings for the lovely agent. But as they uncover the traffickers, a savage serial killer targets Laurie. Can Cameron save the life of the woman he's come to care for…and unmask the threat haunting his family and Stillwater?
FOR MORE INFORMATION:
Book Excerpt:




That was her one and only aim for this first encounter, and Laurie Carter had three things working in her favor as she kept the target in her sights.

First, there was the understated designer swimsuit that molded itself to her curves, while also cleverly drawing attention to the length of her legs.

Then there was the fact that she was wading ashore onto his private lakeside property. As he sprang to his feet from the rock where he had been sitting gazing out across the water, no doubt he was about to point that fact out to her. Laurie did a rapid check, reconciling this man's physical attributes with the photographs she had carefully memorized. Dark, wavy hair, swept back from a broad brow and worn slightly long so that it curled onto his neck. Deep-set eyes above high, Slavic cheekbones. A hawk-like nose and lips that were contrastingly full. She had the right man. There was no mistaking him. Tall and powerfully built, he moved toward her with the grace of an athlete, a frown line pulling his dark eyebrows together.

Judging the distance between them to perfection, Laurie waited until he was close enough. As she fell into a pretend faint, she saw shock and something more register in the hazel depths of Cameron Delaney's eyes. Advantage number three was always going to be the one that clinched it. As his reflexes kicked in and he scooped her up into his arms, Laurie let her head flop back, allowing him a clear view of her face.

His exhalation was an audible hiss.

Mission

accomplished.

The fact that she was trespassing on his land had been the thing that made him notice her. The swimsuit had drawn his attention to her curves and kept him looking. Neither of those things had succeeded in driving the breath from his lungs. That had been achieved for one reason only…because she was the mirror image of his dead girlfriend.

____________________________________________
Meet the Author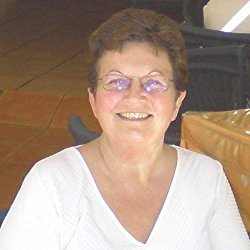 Jane Godman writes paranormal romance for Harlequin Nocturne and SMP Swerve, thrillers for Harlequin Romantic Suspense, and steamy historical romance for Samhain Publishing.
Jane also writes erotic romance as Amanda Stewart.
WEBSITE & SOCIAL LINKS:
***************
MY THOUGHTS
Is the girl who washed up on the beach, Cameron Daley's dead girlfriend, Carla? Can't possibly be. IT isn't, turns out it's Carla's look alike cousin, Laura, who just happens to be an undercover detective. It appears Cameron is involved in a human trafficking ring. She is investigating this but the problem is, she finds Cameron is on her mind constantly, and not because of the problems Cameron is having. Cameron doesn't know it yet, but he's attracted to her too. They combine forces and believe Cameron is being framed. But something more sinister is about the unfold. A serial killer is targeting Laura.Finding the traffickers is the least of their problems. The author gives suspense, an unexpected romance, times when you will be on the edge of your chair. What will happen to Laura? Will Laura and Cameron find out who the serial killer is before it's too late? Does the serial killer have anything to do with the human trafficking ring? Why else would the serial killer be after Laura? Could it possibly have something to do with Cameron's girlfriend that died? Can Cameron protect her? Can you ever trust someone to be who they appear to be? So many questions but the author gives subtle clues along the way.
The author gives you romantic suspense and as you read it slowly grabs your attention. The pace is a bit slow for me but you do get the romance, drama and suspense. romance.

The only thing is, just when you think you have it figured out, you turn the page and you're wrong.
I received a copy of this book from the author and PUYB and voluntarily decided to review it.
____________________________________________
{Virtual Book Tour Schedule}
Monday, April 3

Wednesday, April 5
********
Monday, April 10
Tuesday, April 11
Wednesday, April 12
********
Monday, April 17
Tuesday, April 18
Wednesday, April 19
********
Monday, April 24
Wednesday, April 26
Friday, April 28
***************
Media Contact and Owner:
Dorothy Thompson
Pump Up Your Book
Winner P&E Readers Poll 2016
PUYB