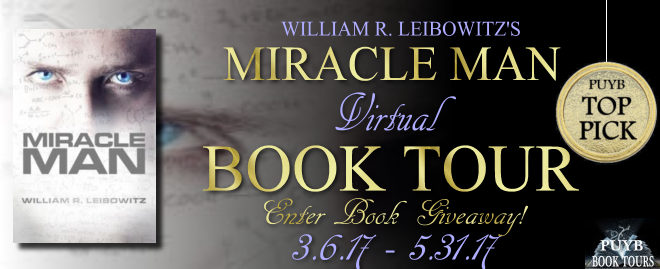 Inside the Book
Title: MIRACLE MAN
Author: William Leibowitz
Publisher: Manifesto Media Group
Pages: 385
Genre: Thriller
REVERED REVILED REMARKABLE
The victim of an unspeakable crime, an infant rises to become a new type of superhero. Unlike any that have come before him, he is not a fanciful creation of animators, he is real.
So begins the saga of Robert James Austin, the greatest genius in human history. But where did his extraordinary intelligence come from?
As agents of corporate greed vie with rabid anti-Western radicals to destroy him, an obsessive government leader launches a bizarre covert mission to exploit his intellect. Yet Austin's greatest fear is not of this world.
Aided by two exceptional women, one of whom will become his unlikely lover, Austin struggles against abandonment and betrayal. But the forces that oppose him are more powerful than even he can understand.
Miracle Man was named by Amazon as one of the Top 100 Novels of 2015, an Amazon Top 10 thriller, an Amazon bestseller and an Amazon NY Times bestseller.
FOR MORE INFORMATION:
Meet the Author

William Leibowitz has been practicing entertainment/media law in New York City for a number of years. He has represented numerous renowned creative people and many leading intellectual property companies. William has a Bachelor of Science degree from New York University and a law degree from Columbia University. He lives in the village of Quogue, New York with his wife, Alexandria, and dog, George. William wrote Miracle Man because of its humoristic and spiritual messages and because he feels that in our current times when meritless celebrity has eclipsed accomplishment and the only heroes are those based on comic books, the world needs a real hero and that, of course, is Robert James Austin, the protagonist.
WEBSITE & SOCIAL LINKS:
MY THOUGHTS
If you're looking for something different to read than take a look at Miracle Man. I found the book had a quick pace with characters you could relate to and the writing was extremely good. Usually there is an editing problem in a lot of the books I read, but not in this one.
To start with we have foster parents that take in a baby that was found in a dumpster, but they soon find out there is something very different about this child. When he reaches the age of four, the doctors discover his IQ is unbelievable. He could be compared to some of the most brilliant people in the world and he is only four years old.
Other than his IQ, he is the typical child, a little sassy but a good kid. There is a company that wants Bobby to be put in their program, but not for Bobby's benefit, but for military strategies.Years go by and Bobby has decided that the medical field is what he wants to do. To help people, work on cures and research.
But, that doesn't set well with the company that needs Bobby for their own purposes.
The author gives something for most readers, medical thriller, psychological and conspiracy. And of course, we have a romantic part where Robert (Bobby) finds love. This love counteracts the thriller part of the book and I find that refreshing. Bobby had problems enough being super intelligent so he needed someone beside him. The author gives the reader just that. I can't say enough about the book. It's a different plot than I've ever read before. The romance was a great touch and added so much to the story.
Can you imagine what it would be like to be that smart. It seems that everyone would want you for their own purposes. It would be hard to live a normal life, especially as a child but the author pulled it off. I would love to see a sequel to this book to learn more about Robert and Christine and what happens in their lives.
I wish I could give more than 5 STARS to this book and I don't say that often.

I was given a copy of this book from the author and PUYB and voluntarily decided to review it.
I would give this book 5 STARS.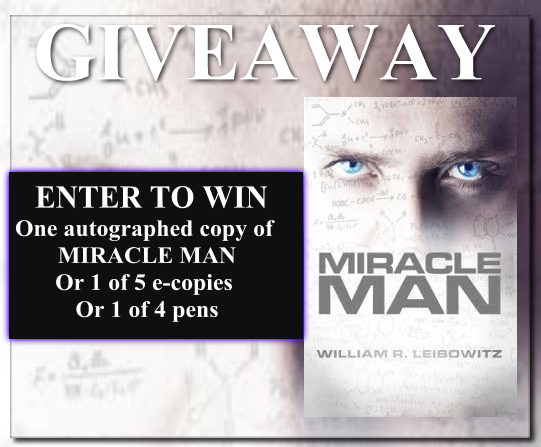 By entering the giveaway, you are confirming you are at least 18 years old.
Ten winners will be chosen via Rafflecopter to receive prizes.
This giveaway ends midnight May 31.
Good luck everyone!
ENTER TO WIN!
Tour Schedule
Monday, March 6

Tuesday, March 7
Wednesday, March 8
Thursday, March 9
Friday, March 10
********
Monday, March 13
Tuesday, March 14
Wednesday, March 15
Thursday, March 16
*******
Monday, March 20
Tuesday, March 21
Wednesday, March 22
********
Tuesday, March 28
Thursday, March 30

Friday, March 31
*******
Monday, April 3
Tuesday, April 4
Wednesday, April 5
Thursday, April 6
*******
Monday, April 10
Wednesday, April 12
********
Monday, April 17
Tuesday, April 18
Wednesday, April 19
Thursday, April 20
*******
Monday, April 24
Tuesday, April 25
Wednesday, April 26
Thursday, April 27
Friday, April 28
********
Monday, May 1
Tuesday, May 2
Thursday, May 4
*******
Monday, May 8
Tuesday, May 9
Thursday, May 11
*******
Monday, May 15
Thursday, May 18
******
Monday, May 22
Tuesday, May 23
Wednesday, May 24
*******
Monday, May 29
Wednesday, May 31
********
DOROTHY THOMPSON
Owner, Pump Up Your Book
Winner P&E Readers Poll 2016