Pump Up Your Book Virtual Book Tours
Proudly Brings You!
************
WINDY CITY SERIES
Books One - Four
Hidden Heart, Secured Heart
Indebted Heart, Liberated Heart
by
Measha Stone
March 6 - March 31, 2017

*************
Inside the Book


Title: HIDDEN HEART
Book One
Author: Measha Stone
Publisher: Blushing Books
Pages: 130
Genre: Erotic Romance
Jessica Stanley is comfortable in her orderly life as a paralegal at a high end law firm. Having dated her fair share of liars and manipulators, Jessica views men through a pair of thick, cynical lenses. Men are good for one thing in her eyes, and one thing only. Her predictable life is thrown into a whirlwind of new experiences when she meets a dominating man at a casual dinner with friends.
Royce Bradford is a man of intent and is used to getting his way. Until he meets Jessica. She is wound tight, and he finds himself yearning to unravel her secrets and her passions. Jessica declares their relationship casual. She's tempted by his seductive tone and unusually powerful demeanor to give him that much. But for Royce, it's not enough. He wants more. Except Jessica has built a secret tomb around her heart, and it will take a lot more than sensual play times and verbal commands for him to be allowed entrance. Royce never backs down from his desires. He takes up the challenge to seek out her Hidden Heart.
FOR MORE INFORMATION:
MY THOUGHTS (Book One)
This series has four books, all with characters you will enjoy. This first book is about a relationship between Jessica and Royce. I found it kinda of interesting that Jessica wasn't into relationships.. She just wanted a friendly, whenever situation with Royce. Play the field and don't get emotions involved. Looks to me like that would be a hard relationship to keep. But Jessica felt doing it that way that no body got hurt in the process. No commitment, go on to someone else if you wanted. Now Royce, he wanted to be in control, thought he had his feelings in check and supposedly knew what he wanted. What he wanted was Jessica. Jessica thinks she is so in control but she thrives on Royce's commanding personality. He doesn't really tell her what to do, but gives her different ideas on what she can do. I found that Jessica has some real problems. She has some hidden secrets from her past that have caused her so much pain. That is one of the reasons she wants no real relationship, no commitments. Royce was definitely in control, even though Jessica thought nothing of it. She ended up where Royce wanted her and she never even knew it. Two very different people with very different problems and pain, trying to not have a relationship. Will it stay that way or will they commit to each other?
I received a copy of this book from the author and PUYB and voluntarily decided to review it.
I would give this book 4 STARS.
************
Publisher: Blushing Books

As a child, Kelly dreamt of having a handsome husband, beautiful children, and a dog playing in the backyard. But life rarely turns out the way you plan, and she fears her clock is ticking. Still on the prowl for the perfect husband, she becomes bolder in her search. A night that starts out like any other, ends up being the one that changes everything. As the owner of a security company, Kendrick McFall takes safety very seriously. His first instinct is to keep Kelly at arms length. However, she isn't his to command,and she isn't easily persuaded to stay away from the world in which Kendrick lives. A world that she craves. Taking her under his protection seems to be the only way to keep her safe from the ghosts of his past, and protect her from new threats. Along the way he doesn't just seek to secure her safety, he wants to secure her heart.
FOR MORE INFORMATION:
MY THOUGHTS (Book Two)
This is Book Two of the Windy City Series. The book can be read as a stand alone but does start with Kelly and her antics. Kelly is one of those girls that appears to go for anything, free love, rather loose and this is on the outside. There is much more to Kelly than that. She isn't dumb by far, she works at a good job, she has good friends but her goals, her goals are slowly not as important as they used to be. Kelly wants and needs desperately a good man to care and love her, after not feeling that love in her young family life. Then enters Kendrick McFall who was a cop but now owns a security company, working clubs. His business is successful but Kendrick has problems to. When being a copy he saw so much meanness and corruption that he has a rather one sided outlook on life. Can their lives change for the better? Kendrick ends up saving Kelly from a scene where she had been drugged and was going to be physically abused. A secret of hers comes forth. She tells Kendrick that she wants to be owned by a man. She goes to a safe club and discovers BDSM. But Kendrick makes her promise she will only go when he is on security duty. Kelly and Kendrick end up having a relationship of sorts. She immediately gives herself up to him, which he wasn't expecting. She gives him all her trust and all of herself. I felt that Kelly was a lost soul. She needed real love, not just an occasional moment. But she may get that love as those emotions that tend to get involved in a relationship pop up. Kendrick appeared to be a stand up guy. He tried to protect her and yet let her have what she wanted. He taught her the ins and outs of the situations she was more than willing to get into. She seems to make some really stupid decisions without thinking. Of all the things Kendrick could have asked of Kelly, he asked for honesty. He had a knack for knowing when to let Kelly fall on her face for her own good and when he should pull her back to protect her. Kendrick is the kind of guy you would want on your side, watching over you. I just wanted to reach out and shake Kelly and tell her how stupid and selfish along with childish she was being. Grow up. Kendrick has a good thing for you. He's a caring, loving man who wants to protect and love yo. But I'm not sure Kelly would see it that way.
So go to the BDSM club with Kelly while Kendrick is on security and see what's going on. Find out if there can be a real relationship between the two. I just had a problem with Kelly's character but if you reflect back, she was the opposite of Kendrick and what do they say?
Opposites attract?
I was given a copy of this book from the author and PUYB and voluntarily decided to review it.
I would give this book 3 STARS.
**********************
Inside the Book
Title: INDEBTED HEART
Book Three
Author: Measha Stone
Publisher: Blushing Books
Pages: 241
Genre: Erotic Romance

Alyssa Sanders has taken care of herself since she was too young to do so. But she's all grown up and ready to get her life on the right track. She heads to Chicago with her life savings and a few prospects. She expects to get a job, find an apartment and get on her way of settling down. What she doesn't expect is to find her new boss not only severely attractive and Dominant, but the son of an old friend.
Alex Trebelli would do anything for his father, so when he's asked to escort an old friend's daughter to dinner he doesn't hesitate to agree. Except the daughter isn't the small town young woman his father described. She's all grown up, full of beauty and curves, and a submissive nature that draws out his dominant side.
When Alex explains he won't be her friend, he can't just be her friend, he wants more, he wants to be her dominant, her boyfriend, she has to decide if she's going to take the leap. She's never been good at a full time D/s relationship, but Alex makes her feel safe and secure. She finds him easy to be with, even when he's being overprotective and bossy.
Can she manage to put aside her fears of failure, and self-doubt and give them a real chance, or will she chose the safer route and keep clear of his sexy smile, and dominant ways?
FOR MORE INFORMATION:
MY THOUGHTS (Book Three)
This is Book Three in the Windy City Series. We are introduced to Alyssa Sanders. Her childhood held much to be desired, with a bad mother, no father in the scene. There was nothing in this little girl's life but survival. But she's a strong girl and she is bond and determined to get out of there and go on to something better. Alyssa's eyes were opened one night which was probably for her own best. Now things change, it can't be helped, but hopefully it is for the best. Alyssa's mother is gone, just up and gone, she's lost her job and comes to the conclusion to go to Chicago for a fresh start. A man named Alex Trebelli has offered to help here. He already has a full plate with his day job and his new club. On the top floor of this club is an exclusive BDSM section. Alex has his secrets but some believe they have figured it out. Then Alyssa is hired to waitress at that very club. This book holds so much, lies, half lies (if there is such a thing), secrets, mystery, suspense and much more. Alex acts like he's just watching out for Alyssa for her father, but in truth, he likes her. He takes her into his own apartment, since hers was a run down fire trap Someone she used to know shows up out of nowhere and now trouble starts. She needed to tell Alex the truth but she didn't and as life has it, it blows up full force in her face. This not only affected her but others too. Sometimes we think we have to hide things because they are so bad but are they really? Will Alex be able to take these secrets that have come to light and go beyond and make a real relationship with Alyssa or will the new comer from her past cause that to be cast aside? This can be read as a stand alone. Is there enough emotion and caring to create that real relationship or will Alysha go on making bad, impulsive choices, such as hiding secrets from the man who cares?
I received a copy of this book from the author and PUYB and voluntarily decided to review it.
I would give this book 3 STARS.
*********
Inside the Book
Title: LIBERATED HEART
Book Four
Author: Measha Stone
Publisher: Blushing Books
Pages: 261
Genre: Erotic Romance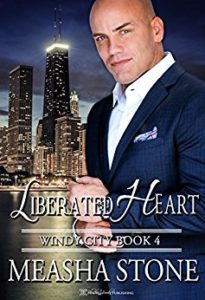 Erin's life has crumbled. Not only has her fiancé run off with another woman, she realizes their entire relationship was a joke. After some soul-searching, and Googling, she jumps head first into a world that only existed in her darkest fantasies.
Bradley Sorenson has come to terms that he will never have a lasting relationship with a submissive. After all, no woman could see to his darker needs in the playroom and continue his brand of power exchange outside of it. But when Erin shows up at his BDSM club, looking for answers to questions he's sure she doesn't even understand, his resolve begins to weaken.
Bradley opens the door to this new world and escorts Erin inside, promising to show her everything she wants to see and more. But just as she begins to find contentment in her true self, she receives a letter that starts a chain of blackmail that could ultimately end her new relationship. Between the blackmail and her new self-awareness, Erin must fight the urge to creep back into the cage she's so used to hiding in, and work to liberate her heart.
FOR MORE INFORMATION:
MY THOUGHTS (Book Four)
This is the Fourth Book in the Windy City Series. IT can be read as a stand alone but I would suggest reading the first three before. Her we have a group of that have remained friends since college. One friend, Erin is very quiet and reserved but she makes excuses to not go to their Friday night get togethers. Could it have something to do with the fact that the group doesn't like Erin's fiancee, Jonathan?
Erin finds out that Jonathan has decided to move on. Evidently he has been cheating on Erin for a long time and has decided to leave her. What was she going to do? Jonathan and Erin bought a house, things weren't supposed to end this way. Then she opens some emails and discovers he is being really cruel. Calls her a freak.
So Erin leans that bondage, BDSM and such isn't so rare. She discovers Alex's BDSM club, called Top Floor. So she Google researches it.
Bradley Sorenson comes to the club looking for Alex and meets Erin. She isn't dressed as most who go to clubs. She's dressed conservatively, more like a housewife than a clubber. She starts asking questions. He convinces her to put herself out there on the auction block all for charity. He's quite interested in where this will go.
Surprising Erin may be new at this but she has a sharp spark to her. Submission takes strength. You can't be a weakling. Not on strength but a whole lot of trust. Does Erin have those things? Bradley hasn't settled down, doesn't know if that's for him but with Erin, he has a desire to try. But is this club the safe club that she had been told? It seems that it isn't. There are some serious issues going on there and they aren't good. Will Erin be strong enough to get through the threatening letters, the kidnapping and near death? Will Bradley come to her rescue. She's always been thought of being a quiet, elusive, fragile piece of china that could break into many pieces if looked at wrong. But deep down, she is a strong willed woman, she just needs a little nudge by a caring, strong man.
I received a copy of this book from the author and PUYB and voluntarily decided to review it.
I would give this book 4 STARS.
Meet the Author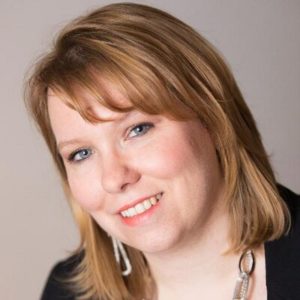 Measha Stone lives in the western suburbs of Chicago with her husband and their children. She is a member of Romance Writers of America, and graduated Summa Cum Laude with a degree in Creative Writing from Southern New Hampshire University. Her vanilla writing has been published in the online magazine efiction and the DuPage Writers Group annual journal
Possibilities
. When she's not writing, she's reading and spending time with her kids- who are just as creative and crazy as her.
WEBSITE & SOCIAL LINKS:
_______________________
Tour Schedule
Monday, March 6

Tuesday, March 7
Wednesday, March 8
********
Monday, March 13
Tuesday, March 14
Wednesday, March 15
Book Review at Books, Reviews, ETC. (Hidden Heart – Book 1, Secured Heart – Book 2, Indebted Heart – Book 3 & Liberated Heart – Book 4)
********
Monday, March 20
Wednesday, March 22
*******
Monday, March 27
Tuesday, March 28
Thursday, March 30
Friday, March 31
*********
Dorothy Thompson
Owner and Founding Mother of Pump Up Your Book
Winner P&E Readers Poll 2016