PUMP UP YOUR BOOK
VIRTUAL BOOK TOURS
BRINGS YOU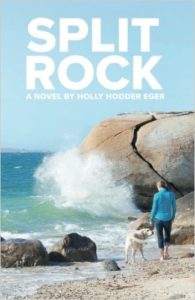 SPLIT ROCK
A Novel
by
Holly Hodder Eger
Publisher: Conzett Verlag
Pages: 368

(Women's Contemporary Fiction)
After losing her favorite aunt, inheriting a house on Martha's Vineyard, and finding herself alone there with three young children, Annie Tucker must confront her past when an unresolved love tests whether she has the courage to resist the pull of seduction and reclaim her true self. Both poignant and funny, this story is about forgiveness, acceptance, and the power of love and family.
AUTHOR
A New Englander transplanted around the world, Holly Hodder Eger has written travel articles and personal commentaries that have appeared in local as well as national publications. She began SPLIT ROCK as a short story when her youngest child was in nursery school, put it aside while raising her family and moving them internationally several times, and finished it just before her oldest was married. Holly and her husband now live on Martha's Vineyard and in Northern California, where she teaches writing. SPLIT ROCK is her first novel.
MY THOUGHTS
I love books that give you characters you can relate to and this book has them. As you turn the pages, you get to know them and care about them. The book gets your emotions going. The facing of loss and all the garbage life deals you. The setting is Martha's Vineyard, summer of 1997. That is a lovely setting for a book. Makes the reader want to be there.
A young woman, Annie Tucker, with three children finds herself alone after inheriting a house on the island, Martha's Vineyard. She has so much on her shoulders and in her heart. Her husband seems to be gone a lot on business trips. Sound familiar? She must face things from her past, losses and the future, all while being a mother of three. Annie is far, far from perfect but you gotta love her. She's real, not fake.
There is the challenges of her love for her family and her husband. They all have things to face and it isn't easy. You become part of their lives and you want so much for things to work out for the best, but will they? You want Annie to sort of grow up and face things as a mature adult, but she seems to have trouble coping. For it being the author's first book, it is well written, charming, not your ordinary romance book and the characters are ones you can feel like you know. You're there, page by page, on Martha's Vineyard. SO! if you have always wanted to visit Martha's Vineyard along with getting to know some well developed characters, here's your chance. This is fiction but it could very well happen. Don't miss out. Hopefully there will be more from this author and SOON!
I received a copy of this book from the author and PUYB and voluntarily decided to review it.
*****************
Dorothy Thompson
CEO/Founder of Pump Up Your Book
Winner of P&E Readers Poll 2016 for Best Publicity Firm