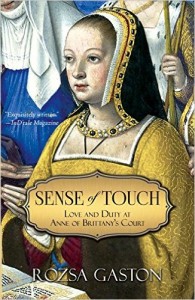 REVIEW CAMPAIGN
BROUGHT TO YOU BY
PUMP UP YOUR BOOKS
VIRTUAL BOOK TOURS
Inside the Book:
Title: SENSE OF TOUCH
Author: Rozsa Gaston
Publisher: Renaissance Editions
Pages: 324
Genre: Historical Romance
"Readers who love their romantic fiction intertwined with real-life figures from history will find
Sense of Touch
a compelling read. The touching love story gives an interested glimpse into court life in France in the late 15th century. The fictional heroine is well drawn and a formidable counterpart to Anne of Brittany."—
RT

"An enchanting historical romance. Set in the court of Anne of Brittany, we also learn much about the woman who was twice Queen consort of France and her struggle to produce a living heir for the throne. Well-paced with period detail." —
The Westchester Guardian
In July of 1497 Anne of Brittany, Queen of France, gives birth to a son. Within hours the child joins the five dead siblings who came before him.
In the mournful weeks that follow, fifteen-year-old Nicole St. Sylvain meets Philippe de Bois, a young horse trainer breaking in one of the queen's stallions. The attraction between the two is immediate, but duty and honor bring their romance to an abrupt halt. They work together to heal the horse's infected hoof, then part ways.
As the daughter of a wealthy but untitled merchant, Nicole exists in a precarious social position. Her family has money, she is the sole heir, but she is only noble on her dead mother's side. An arranged marriage to an established noble family will secure her future but dash any hope she has of a life with Philippe.
When the queen's only living child falls ill, she remembers Nicole's skill as a healer. If Nicole's healing sense of touch can save the royal child, will the queen reward her with the greatest desire of her heart—marriage to her one true love?
From the Author
Ever since picking up Mildred Allen Butler's book on Anne of Brittany a few years ago (
Twice Queen of France: Anne of Brittany.
New York: Funk & Wagnalls, 1967), I've been fascinated by this French queen who came to power at age eleven as ruler of Brittany, then became queen of France at age fourteen.

Anne of Brittany's travails trying to bring live children into the world rival any woman's in history.
This girl/woman went through the wringer as a mother. Her fourteen pregnancies resulted in the survival of two children, both daughters.The rest? Three miscarriages, five stillborn infants, one son dead after three hours, one daughter dead after one day, another son lived three weeks, her longest living son survived to age three when he succumbed to measles. As a public figure, this queen's drama played out on the stage of all of France. If I had made this up, readers wouldn't believe it.Yet it's all true, and carefully historically documented.

I began to wonder why Anne of Brittany's story is not well known.
Many modern women share the same secret heartaches their medieval and ancient-era sisters suffered: pregnancy loss, inability to bring a live child into the world, inability to keep a child alive once born. Women continue to struggle with these issues, suffering in silence when pregnancy and childbirth loss occurs. My heart aches for every one of them.
I wanted to bring alive Anne of Brittany's tale for modern women
, many of whom share her story in personal grief and in courage. At the same time this brave woman endured continual personal tragedy she achieved great success as queen of France. She offers the world a model of fortitude and resilience in the face of enormous personal suffering.
Anne of Brittany ruled over the most sophisticated court in Europe.
She was the first European royal to wear lingerie, specifically brassieres.
She helped usher in the glories of the Renaissance from Italy to France.She ran the first finishing school for young women of noble birth,educating them in book learning and estate management and supplying or supplementing their dowries when they married.
Both of Anne of Brittany's husbands were madly in love with her. Neither considered putting her aside despite her inability to produce an heir for the throne of France. Her second husband, Louis XII of France, died less than a year after her death at the age of thirty seven. It was said that he never recovered from her death.
Anne of Brittany was renown throughout Europe as a matchmaker. Rulers of other European countries,including King Ferdinand of Spain, after his wife Isabella's death, and the King of Hungary sought her advice in choosing suitable new spouses.
Enjoy discovering the remarkable historical figure Anne of Brittany in
Sense of Touch.
And look for its sequel in early 2017,
Anne of Brittany: Girl Who Ruled a Country
.
File Size: 4619 KB
Print Length: 325 pages
Page Numbers Source ISBN: 0984790624
Publisher: Renaissance Editions (May 23, 2016)
Publication Date: May 23, 2016
Sold by: Amazon Digital Services LLC
Language: English
ASIN: B01G3UG5ZE
ROZSA GASTON
ROZSA GASTON writes playful books on serious matters, including the struggles women face to get what they want out of life. She is the author of Sense of Touch, Paris Adieu, Black is Not a Color, Budapest Romance, Running from Love, Dog Sitters, and Lyric.
Gaston studied European history at Yale and received her masters in international affairs from Columbia.
Gaston has worked as a singer and pianist all over the world. After leaving the entertainment industry she worked at Institutional Investor, then as a hedge fund marketer. She lives in Bronxville, New York, with her family and is currently working on Anne of Brittany: Girl Who Ruled a Country, the sequel to Sense of Touch.
Gaston can be found online on
FACEBOOK
, or at her website,
AUTHOR'S SITE
. Her motto? Stay playful.
MY THOUGHTS
I really didn't know much about Anne of Brittany so this historical romance was so very interesting. Love that is a NO NO is always enticing whether it be historical romance or any other genre. 15th century history of a French queen. She stood tall even through the heartbreak of trying to bear children. Heirs, typically male heirs were not a wish but often times a demand. Does that tell you anything about how important women can be? This story is composed of two main characters, both female, Love, often is not real, only surface appealing, but this true story of Anne of Brittany and her personal maid Nicole tells of both women and their strength to go after what they want. Some women can relate so much to this story. Wanting children but heartache after heartache happens. Wanting things so passionately and going after that passion. Life years and years ago was not all that different as far as the struggles and heartaches that take place. The author gives us a historical lesson, the heartache of child loss and forbidden love, a woman who stood her ground and fought fiercely for what she believed and wanted. The reader gets it all and there is no lack of interested. I loved imagining the life, the clothing, the scenery and feeling all the emotions right along with the characters. Imagine, what would it be like to be married to Charles VIII and if that wouldn't be enough, be married later to Louis XII. Queen not once but twice. The demands on your time and your life. You would think it would be a glorious wonderful life. But was it for Anne of Brittany? The story was exceptionally well written and the descriptions were vivid. Anyone who is a history lover, a romance lover or a strong woman admirer, will love this book.
I received a complimentary copy of this book from the author, Rozsa Gaston and PUYB and voluntarily decided to review it.
I would give this book 5 STARS.
AMAZON BUY LINK
GOODREADS REVIEW LINK
AMAZON REVIEW LINK