PUMP UP YOUR BOOK
PROUDLY PRESENTS
A REVIEW CAMPAIGN
FOR
CAT O'NINE TALES
by
Krystal Lawrence
Leave a comment to let her know you stopped by!
Click on NO COMMENTS at end of post.
THANKS!
Inside the Book: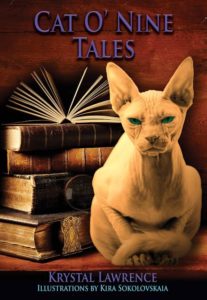 Title: Cat O'Nine Tales
Author: Krystal Lawrence
Publisher: Telemachus Press
Pages: 284
Genre: Horror/Suspense
A collection of 9 short stories (and one bonus tale!) Journey to the dark side with this
collection of 10 twisted tales of horror, malevolence and the truly uncanny.
What evil dwells within the pretty lady next door or the ordinary house cat?

What happens when you pursue your dreams into the desert after dark?

Beware the man borne of your imagination. He could seek vengeance on the one who created him.

Visit a bookstore offering a most alluring and sinister service.
AMAZON BUY LINK
Hardcover
Publisher: Krystal Lawrence (July 29, 2016)
Language: English
ISBN-10: 1942899998
ISBN-13: 978-1942899990
THE AUTHOR
Born in Southern California, Krystal Lawrence was a child actress, appearing in major motion pictures and television shows. In her twenties she hosted a successful radio talk show in Las Vegas and majored in criminal justice in college. Working for a police department, Ms. Lawrence gained detailed insight into the world of crime scene investigation and police interrogation. She has carried this knowledge over into her books, lending an aspect of true crime to purely fictional stories. Since moving to Seattle, Ms. Lawrence devoted her creativity solely to fiction writing, which she calls her "true north." She has enjoyed many national accolades for her work.
MY THOUGHTS
Go on a journey to the dark side of fiction with ten short stories. This is Ms. Lawrence's fourth book. There are also illustrations by Kira Sokolovskia. Who knows what goes on with the nice little lady down the street, or the husband, seemingly in love with his wife and so much more. There is much more to everyone and everything than appears outright.
This is a short story collection of horror stories but I didn't really find them scary but rather humorous and rather funny. There were times when I'd turn the page and there it was, the scary part. This was a great way for the author to keep your attention. Just the time you're smiling, the smile fades a little. I'd stop and think, oh no, this could happen, really happen.
I found myself liking the short story, The Perfect Crime. A husband, Claude had planned on killing his wife for years. He planned it second by second and then the time came... I thought I had it all figured out but I was surprised at the very end. It wasn't what I had expected. The stories are such as the title, a cat with nine lives. Did you ever stop to think about a cat? They are a little scary at times. Think about it. Not only nine lives but they sense things sometimes before they occur. The author wove a fine web of the dark side of everyday life, our dreams, our friends and relatives, our animals and much more. Step into the dark side and see if you're afraid to turn the page. (Take a look at the cat on the cover, a little eerie.


I received a complimentary PDF copy of this book from the author and PUYB and voluntarily decided to review it.

I would give this book 5 STARS.
GOODREADS REVIEW LINK
AMAZON REVIEW LINK