PUMP UP YOUR BOOK
VIRTUAL BOOK TOURS
IS PLEASED
TO PRESENT
I, MARY!
The Eternity Series
Book Three
by
Mike Hartner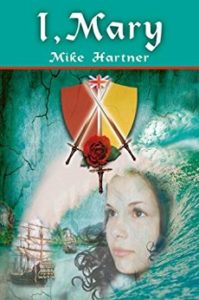 Inside the Book:
Title: I, Mary
Author: Mike Hartner
Publisher: Eternity 4 Popsickle Publishing
Pages: 266
Genre: Historical Romance

A girl with something to prove. A ship with endless challenges. Will a life on the water set her free?
Mary Crofter has spent her life around ships. She's in love with the sea in an era that keeps girls far away from the deck. Breaking social norms, she joins the crew of a small ship and sets sail for a new life.
Eager to prove her mettle to the all-male crew, Mary demands she be treated no differently. She works hard in a world that finds an English civil war brewing and spies around every turn. When she meets a man who offers her a much safer life on dry land, she must choose between the promise of love and the call of the sea.
I, Mary
is the third installment of the Eternity Series, a saga of seafaring adventures for both teens and adults. If you like strong female characters, immersive historical fiction, and sweet romance, then you'll love Mike Hartner's adventurous tale of the sea.
For More Information
THE AUTHOR

Mike Hartner was born in Miami in 1965. He's traveled much of the continental United States. He has several years post secondary education, and experience teaching and tutoring young adults. Hartner has owned and run a computer firm for more than twenty-five years. He now lives in Vancouver, British Columbia, Canada, with his wife and child. They share the neighborhood and their son with his maternal grandparents.
His latest book is the historical romance, I, Mary.
For More Information
MY THOUGHTS
What would you do if faced with the decision between love or going to sea? You would probably choose love, but you'd be surprised at the choice Mary made in this story. The setting of this story is the 1600's. If you are a lover of historic romance, like I am, then you won't want to miss this one.
Mary is a strong woman, strong willed and she follows in her father's footsteps. She has sailing on the high seas on her mind and she fully intends on doing so. But how will a woman fair being out to see, not as a passenger, but a sailor? Women were frowned upon doing the jobs that only men did. But the author gives us this strong woman, determined and brave.
She was a mere 12 years old, a child, when she went to sea, right beside the others sailors, bound and determined to learn everything there is to learn about sailing. Mary didn't expect any favoritism, even though being a young girl and, her family owned the ship.
The author, of course, gives us romance. Mary meets her love, Andrew while a sailor on her family's ship. What a love story! Innocent and clean. This romance could be read by young readers with no worries. And what a history lesson with bits of the 16th and 17th century mixed in.
The author keeps you in suspense wondering if anything, children, her husband, herself even, will make her leave her love of the sea. Just as you turn that next page, another twist binds you to your chair. What will be next?
The author writes a very detailed scenery along with very developed characters. You can picture the ship rolling over the waves and Mary working alongside the other sailors on the ship. I know it's said that this is a children's novel, but I enjoyed it immensely. A girl can have dreams and those dreams can come true. The author gives this bit of encouragement to young readers. If you have a dream, go for it!
Well written, developed characters, history, strong woman and a goal to reach for, for all of us.
I was given a complimentary copy of this book from the author, Mike Hartner and PUYB and voluntarily decided to review it.