Pump Up Your Book
Presents
Ghost Hampton
Virtual Book Publicity Tour
Check this out and leave a comment!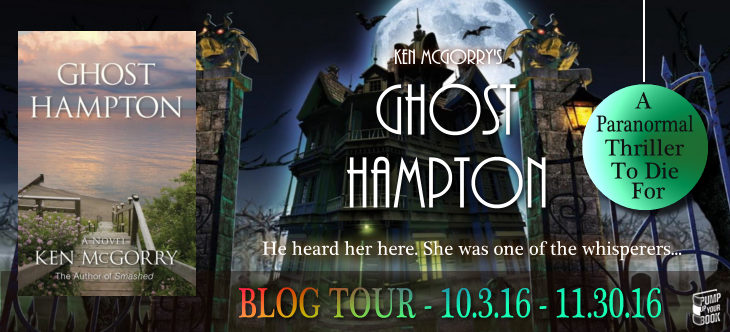 October 3 – November 30!


HE HEARD HER HERE
SHE WAS ONE OF THE WHISPERERS....


Inside the Book
Title: GHOST HAMPTON
Author: Ken McGorry
Publisher: Independent
Pages: 450
Genre: Paranormal Thriller
Lyle Hall is a new man since his car accident and spinal injury. The notoriously insensitive Bridgehampton lawyer is now afflicted with an odd sensitivity to other people's pain. Especially that of a mysterious young girl he encounters outside a long-abandoned Victorian house late one October night. "Jewel" looks about 12. But Lyle knows she's been dead a hundred years. Jewel wants his help, but it's unclear how. As if in return, she shows him an appalling vision—his own daughter's tombstone. If it's to be believed, Georgie's last day is four days away. Despite Lyle's strained relations with his police detective daughter, he's shocked out of complacent convalescence and back into action in the real world.
But the world now seems surreal to the formerly Scrooge-like real estate lawyer. Lyle's motion in court enjoining the Town of Southampton from demolishing the old house goes viral because he leaked that it might be haunted. This unleashes a horde of ghost-loving demonstrators and triggers a national media frenzy. Through it all strides Lyle's new nemesis in high heels: a beautiful, scheming TV reporter known as Silk.
Georgie Hall's own troubles mount as a campaign of stationhouse pranks takes a disturbing sexual turn. Her very first case is underway and her main suspect is a wannabe drug lord. Meanwhile, Lyle must choose: Repair his relationship with Georgie or succumb to the devious Silk and her exclusive media contract. He tells himself seeing Georgie's epitaph was just a hallucination. But a few miles away the would-be drug lord is loading his assault rifle. Berto needs to prove himself.
Meet the Author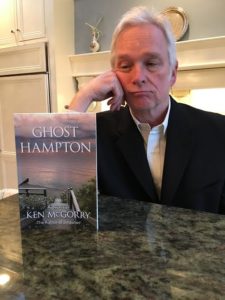 Ken McGorry has been writing since third grade. (He learned in first grade, but waited two years.) He started a school newspaper with friends in seventh grade, but he's better known for his 23 years as an editor of Post Magazine, a monthly covering television and film production. This century, he took up novel-writing and
Ghost Hampton
and
Smashed
are examples. More are in the works, like the promised
Ghost Hampton
sequel, but he's kinda slow.
Ken lives on Long Island with his wife and they have two strapping sons. There are dogs. Ken is also a chef (grilled cheese, and only for his sons) and he enjoys boating (if it's someone else's boat). He has a band, The Achievements, that plays his songs (try
https://soundcloud.com/ken-mcgorry
). Back at Manhattan College (English major!), he was a founding member of the venerable Meade Bros. Band. Ken really was an employee of Dan's Papers in the Hamptons one college summer, and really did mow Dan's lawn.
MY THOUGHTS
Strange how a tragic accident can change a person and change it did to Lyle Hall. He used to be uncaring. Could care less about other's misfortunes. But that all changed when he was inflicted with a spine injury after a car accident.
Now here's where the author starts to get you interested, on the edge of your seat interested. Lyle meets this young girl one night, only she isn't so young. Lyle knows for a fact she's been dead for over 100 years. Now this is my kind of book. The author has you wondering, is this a reincarnation of some kind?
Jewel shows Lyle a vision. A vision of his daughter's grave stone. Now Lyle knows Georgie has only four days left and then that stone will really be her head stone.
The author gets you to wondering, what is going to happen to Georgie. Then the author gives you the supposed haunted house that is about to be destroyed. We get introduced to the media and paranormal lovers w ho don't want the house destroyed. Of course, we have to have that sly, cunning, beautiful reporter. Silk, in her trademark high heels is out to get an exclusive on this old house and she is out to get Lyle in the process. Lyle has a dilemma on his hands. Does he try to fix his relationship with his daughter or does he fall under the spell of Silk?
The author did a wonderful job of putting the right characters with the right personalities into the story. I couldn't turn the pages fast enough to find out what was next. The pace was a moderate pace that kept your interest but didn't lose you either. As I read, I began to wonder. Could this happen? The author not only gave you ghosts, mystery, etc but a drug lord on top of it. Now you are probably wondering like I did, what does a drug lord have to do with ghosts and haunted houses. You may be surprised. As you read, the author sends those spine tingling chills up your back and into your mind This is one of the best paranormal thrillers to die for that I've read in some time. It will take a grip on you and you may look at your arm and imagine Jewel holding on to you. Oh no, that's scary. So pick up a copy and start the chilling read of ghost, haunted houses, drug lords, reporters, etc. I would suggest locking the doors when you read because things do go BUMP IN THE NIGHT!
I received a complimentary copy of this book from the author, Ken McGorry and PUYB in exchange for my unbiased review.
I would give this book 5 STARS.
Tour Schedule
********
********
********
********
*********
********
**********
********