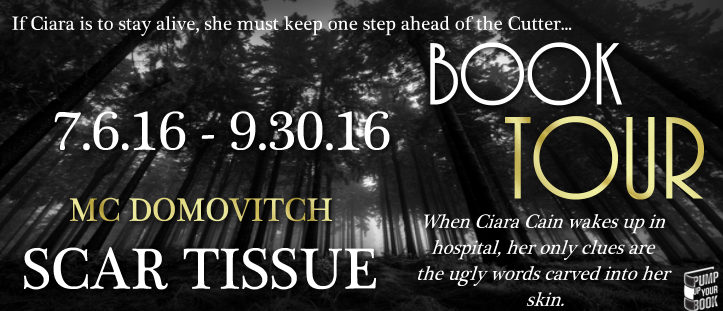 PUMP UP YOUR BOOK
Virtual Book Tours
is
pleased to bring you
MC Domovitch's
Scar Tissue
The Mindsight Series
Book 1
July 5-September 30, 2016


Inside the Book
Title: Scar Tissue
Author: MC Domovitch
Publisher: Lansen Publishing
Pages: 396
Genre: Romantic Suspense/Thriller/Paranormal
When successful model Ciara Cain wakes up in hospital, remembering nothing of the weeks she has been missing, her only clues are the ugly words carved into her skin. According to the police she was a victim of the Cutter, a serial killer who has already murdered three women. For her protection the police and her doctors give a press conference, announcing that because her amnesia is organically caused, her memory loss is permanent. But, whether her memory returns or not is anybody's guess.
Overnight, Ciara's glamorous life is gone. Her scars have killed both her modelling career and her relationship with her rich boyfriend. With nothing to keep her in New York, she returns to her home town of Seattle, moves in with her sister and goes about building a new life. But when her sister lets it slip that Ciara's memory is returning, the killer comes after her again. If Ciara is to stay alive, she must keep one step ahead of the Cutter.
For More Information
Meet the Author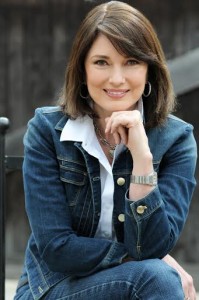 M C Domovitch is the author of nine novels, four of which were published under the name of Carol Ann Martin (by Penguin), another two under the name Monique Domovitch (by Carina Press) The other three are published as M C Domovitch, Scorpio Rising, The Sting of the Scorpio (Both now republished in one single tome) and
Scar Tissue
. The decision to use a different pen name was based on her departure from cozy mysteries and entering the Romance and Romantic Suspense genres.
Before becoming an author, Monique had multiple careers, beginning with modeling. She won a modeling contest in the 70s and became one of Canada's top models. After retiring from the fashion industry, she studied finance and joined an investment company. This led to a new career as host of her own television show about investing, with the television network, WTN. Following her retirement from finance, she decided to pursue her true passion, writing. At a writing workshop at San Diego's Writers' Conference, one of her unpublished books caught the eye of a publisher and of an agent. And the rest, as they say, is history.
Domovitch lives with her physician husband and their dogs. They divide their time between homes in Victoria and Toronto Canada and Key Largo Florida.
For More Information
REVIEW
CONTAINS PROFANE LANGUAGE AND SEX SCENES
I feel this is a book for adults with the language and sex scene content. As adults we know this is a part of the real world and this book will definitely give you a taste of the real world. This book will keep you turning the pages and possibly wondering if this could happen for real? The victim of a terrible crime, Ciara Kelly, has been left for dead. This once beautiful top model has scars, not just on her body but in her mind. She has amnesia and the doctors don't know when she will regain her memory. She has a boyfriend but where has he been. Oh he came a few times but her sister sat by her side the entire time she was unconscious. The author, Ms. Domovitch places this scene in your mind and you can picture it so well. It touches your emotions and your heart strings. Beauty and life can be taken away in an instant. You feel for Ciara. One look at her and people stay away. She can no longer model? Where is her boyfriend? Follow Ciara through her ordeal of near death, leaving the life she has know and settling down in a different town. Ciara is getting to know a different lifestyle, one she never ever would have thought of but she, right , has no choice.Will Ciara be able to let the SCAR TISSUE heal? Will the killer find her again? If so, can she stay an arm's length out of his reach? The author gives you just enough information at a time in order to keep the pace of the book flowing without the reader becoming bogged down with useless information. Take a good look at the cover. Says a lot. What about the title SCAR TISSUE? Most of us have scar tissue, some worse than others.
I received a complimentary copy of this book from the author, MC Domovitch and Pump Up Your Book in exchange for my unbiased review.
I would give this book 5 STARS.
AMAZON REVIEW LINK
Tour Schedule
********
*********
********
*******
********
********
********
*******
********
********
********
********