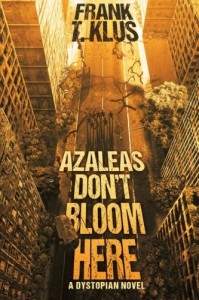 Publisher: Createspace
Pages: 338
Genre: Literary/Action/Dystopian
In a dark and dying world, Eugene Sulke stands on the cusp of his lifelong dream: a promotion, money, and a home in the affluent section of Old Chicago, called the Fortress, where he can watch the sun set over the azaleas. Only one thing stands in his way–his own fear that he is responsible for the terrible conditions his new home would wall him off from.
Caught in a web of intrigue and the warnings of his wife, Eugene could not see the unfolding chaos around him. Suddenly, his wife is dead, he's in prison, and then subjected to the government's final solution–a mind-altering technique that would change anyone from who they are to anyone they want them to be. A rescue is attempted, but Eugene's own fears become his worst enemy..His friends must convince him to go to New America and face the shocking truth about what destroyed his world.

Frank T. Klus was born in Chicago. Has degrees in business and technology. This is his second novel. He currently lives in Phoenix, Az.

The setting is the rich part of Chicago known as the Fortress. The year 2065. The outside world of the Fortress is now dying. Eugene Sulke is on the brink of leaving the dying world and joining the Fortress where life is thriving and the azaleas are growing. The azaleas don't bloom in the dying world. But are things all that great in the Fortress? Eugene is stuck in place, knowing that he is responsible for the dying world. Everyday he would be in the Fortress, he would look at the rising and setting sun and know that what was beyond the walls of the Fortress were because of him
Eugen's wife keeps telling him to be ware, but Eugene justs puts the warning off to her drinking. Then the world, that dying world, turns on Eugene. He finds that the wife he loves in dead and the secrets he discovers puts him in fear, fear, not only for his own life, but fear for others around him. He soon finds himself in prison. But that's not the worse. The government has a program designed for those in the dying world who don't conform, a dangerous program, that will be exposed for what it is. Will Eugene make it to the New America, the Fortress? Will he finally be able to face the truth of his fears? An eye opener of the possible future and the possibilities of what may come. Think about it as you read. It could happen to everyone of us.
I received a complimentary copy of this book from the author, Frank T. Klus and PUYB in exchange for my unbiased view.
I would give this book 5 STARS.