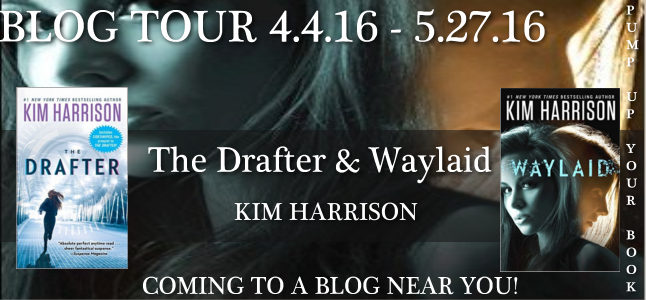 Pump Up Your Book is pleased to bring you Kim Harrison's THE DRAFTER & WAYLAID virtual book tour April 4 – May 27!
THE DRAFTER
The Peri Reed Chronicles
Book One
by
Kim Harrison
#1 NEW YORK TIMES BESTSELLING AUTHOR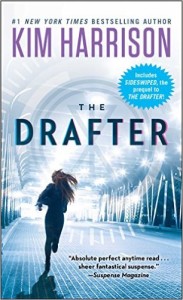 Inside the Book:
Title: The Drafter
Author: Kim Harrison
Publisher: Pocket Books
Pages: 560
Genre: Thriller/Suspense/Sci Fi/Fantasy
Detroit 2030.
Double-crossed by the person she loved and betrayed by the covert government organization that trained her to use her body as a weapon, Peri Reed is a renegade on the run. Don't forgive and never forget has always been Peri's creed. But her day job makes it difficult: she is a drafter, possessed of a rare, invaluable skill for altering time, yet destined to forget both the history she changed and the history she rewrote. When Peri discovers her name is on a list of corrupt operatives, she realizes that her own life has been manipulated by the agency. Her memory of the previous three years erased, she joins forces with a mysterious rogue soldier in a deadly race to piece together the truth about her fateful final task. Her motto has always been only to kill those who kill her first. But with nothing but intuition to guide her, will she have to break her own rule to survive?
For More Information
AUTHOR
New York Times bestselling Kim Harrison was born in Detroit and has lived most of her life within an easy drive of it. When not at work on her latest project, she spends her time landscaping her new/old Victorian home or out on the links with her mom. Her current vices include good chocolate, and exquisite sushi. Her bestselling novels include Dead Witch Walking; The Good, The Bad, and The Undead; Every Which Way But Dead; A Fistful of Charms; For a Few Demons More; and The Witch With No Name.
For More Information
REVIEW
Kim Harrison, an established author has written a series I was very fond of, THE HOLLOWS.This book, THE DRAFTER, was quite a bit different. The writing was very good but I had a little trouble with Peri Reed. I just couldn't like Peri Reed. I guess I got so hooked on THE HOLLOWS series that I'm expecting the same. These are different characters with different traits. I'm not used to third person views. It just felt uncomfortable. That isn't the book, it's me. I think the theme of drafting was different and interesting, although I'm not into time travel much. I believe the character Peri Reed kept being placed back, as though she got the message and she needed to straighten up. Wouldn't it be nice, if all your mistakes could be reset? It might make for some perfect people. After the second time of reading through her being paranoid and mixed up, I didn't want any more. It became boring. I had a hard time getting through the book. It was a struggle. This is just my own personal opinion. I just didn't find it as good as the other books the author has written. There is always Book Two. Might give it a try. Grab a copy and decide what you think? Everybody has their own opinion.
I received a complimentary copy of this book from the author, Kim Harrison and PUYB, in exchange for my unbiased review. No other compensation took place.
I would give this book 3 STARS.
Tour Schedule
———-
———-
———-
———-
———-
———
———–
LINKS
PUYB
AMAZON BUY LINK
AMAZON REVIEW