DUE OUT: April 19, 2016
PUMP UP YOUR BOOK
VIRTUAL BOOK TOURS
IS PLEASED
TO BRING YOU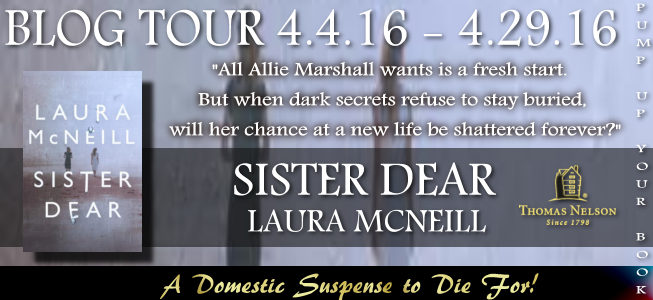 BOOK DETAILS
(from PUYB)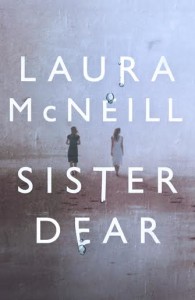 Title: Sister Dear
Author: Laura McNeil
Publisher: HarperCollins/Thomas Nelson
Pages: 336
Genre: Domestic Suspense
All Allie Marshall wants is a fresh start. But when dark secrets refuse to stay buried, will her chance at a new life be shattered forever?
Convicted of a crime she didn't commit, Allie watched a decade of her life vanish. Now, out on parole, Allie is determined to clear her name and reconnect with the daughter she barely knows.
But Allie's return to Brunswick, Georgia, sends earthquakes through the small, coastal community. Even her daughter Caroline, now a teenager, challenges Allie's claims of innocence.
Refusing defeat, a stronger, smarter Allie launches a campaign for the truth, digging deep into the past. Her investigation threatens her parole status, her own safety, and the already-fragile bond with her family. What Allie uncovers is far worse than she imagined. Her own sister has been hiding a dark secret—one that holds the key to Allie's freedom.
For More Information
Meet the Author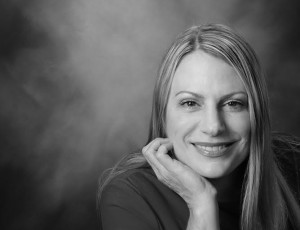 Laura McNeil is a writer, mom, travel enthusiast, and coffee drinker. In her former life, she was a television news anchor for CBS News affiliates in New York and Alabama. Laura holds a master's degree in journalism from The Ohio State University and is completing a Ph.D. in Instructional Leadership at the University of Alabama. When she's not writing and doing homework, she enjoys running, yoga, and spending time at the beach. She lives in Northern Alabama with her family.
Her latest book is the domestic suspense,
Sister Dear
.
For More Information
BOOK REVIEW
Haven't we all wished at one time or another that we could start over? Well, that's all Allie Marshall wanted. Sometimes the past comes back to haunt you, buried secrets don't stay buried. Will the past threaten to take Allie's chance at a new start away? Grab a copy and find out.
Allie Marshall lost 10 years of her life. Once that time in a person's life is gone, it's gone forever. There's no bringing it back. She's out of prison from spending a decade for a crime she didn't commit. She has a daughter she barely knows so she returns home to Brunswick, Georgia to get to know her daughter, clear her name and make a new life . That's a tall order for anyone.
When she gets home, she finds out that no one really believes she didn't commit the crime she was accused of. Allie isn't a quitter. She goes on a mission to find out the truth. That may mean she will have to go against her parole. She may never find out the truth but she's willing to go to her past to find the truth.
Dark secrets lie ahead. Secrets that Allie hadn't even thought of. The one that holds that evil secret is someone she knows very well.
Will Allie find the truth? Will she be exonerated? Will she be able to repair the distance between her and her family?
READ and discover the truth!
I received a complimentary copy of this book from the author, Laura McNeil and PUYB in exchange for my unbiased review. No other compensation took place.
I would give this book 5 STARS.