PUMP UP YOUR BOOK
VIRTUAL BOOK TOURS
IS PROUD TO
PRESENT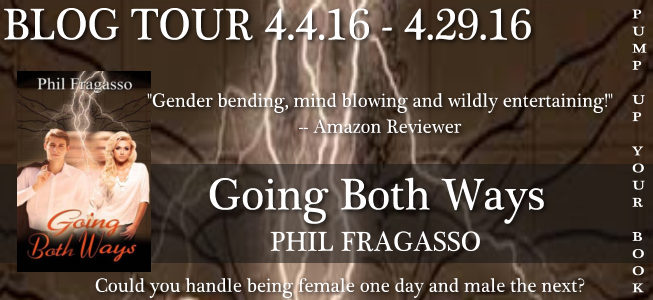 Phil Fragasso
will be touring
April 4-29
with his paranormal romance/satire/humor/mainstream fiction,
GOING BOTH WAYS
by Phil Fragasso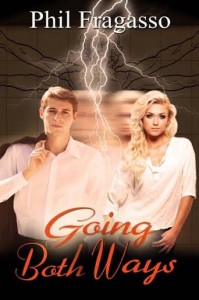 Inside the Book:
Title: GOING BOTH WAYS
Author: Phil Fragasso
Publisher: Wild Rose Press
Pages: 276
Genre: Paranormal Romance/Satire/Humor/Mainstream Fiction
After a prolonged rant about how easy women have it, Patrick awakens as a woman (Trish). But rather than staying a woman, he's male one day and female the next. The male and female characters share a single mindset – so Patrick is always in Trish's head and vice versa.
As much as Patrick tries to keep his situation private, he eventually becomes a worldwide sensation sought after by luminaries as diverse as the Pope and Hugh Hefner. While attending a party, Patrick meets a rap superstar named Gi-Slam. Their connection is immediate and powerful.
Gi-Slam's onstage biker-bitch character contrasts with her genuine girl-next-door persona (Gigi). Gigi is bi-sexual and she has a relationship with both Trish and Patrick. As the relationship with Gigi deepens, Trish takes her leave and Patrick experiences true love for the first time.
Paperback: 276 pages
Publisher: The Wild Rose Press, Inc. (March 18, 2016)
Language: English
ISBN-10: 1509206116
ISBN-13: 978-1509206117
REVIEW
Patrick/Trish the main character wouldn't be on my list of friends, at least not at first,
He/She will make you feel a variety of emotions. The change in your eyes of him comes after, with the help of Trish, his ability to respect others, getting to know himself and being plain truthful. We probably all know a Patrick, selfish, sexist, dumb and a one track mind, sex. That is until he wakes up one morning as a woman. That would be such a shock. Every other day Patrick becomes Trish. What is happening? Is there any way that Patrick/Trish can find love? Will he/she be accepted for who they are?
It is a look at both sides and at times is rather funny. Some of the others characters were Sarah, the sweetheart, super hotty Becca and friends. I guess the main interest for me was, what exactly did the future hold for Patrick/Trish? Would Patrick keep changing into Trish or would he go back to being just Patrick? The author dealt with the switching between male and female very good. A big lesson is to be learned here, will Patrick learn it? Patrick has a bad attitude towards women. Will being transformed into a women every other day, make him rethink the way he behaves.? It's a good read, it just wasn't my cup of tea. If you're looking for something a little different that you can find funny at times and reads quickly, try this one. Get the perspective from the other side. It's interesting.
I received a complimentary copy of this book from the author, Phil Fragasso and PUYB in exchange for
my unbiased view. No other compensation took place.
I would give this book 3 STARS.
AUTHOR
Phil sold his first article at the age of 16. Since then he has written and published a wide variety of books, articles and essays. After 40 years as a corporate marketer, he left to pursue endeavors that were more fulfilling personally and more contributory on a societal level. Today he focuses his time on writing and teaching.
LINKS
AUTHOR
AMAZON BUY PAGE
PUYB
AMAZON REVIEW LINK
TOUR SCHEDULE
Monday, April 4 – Interview at
PUYB Virtual Book Club
Tuesday, April 5 – Guest Blogging at
The Story Behind the Book
Wednesday, April 6 – Interview at
The Literary Nook
———-
Monday, April 11 – Character Interview at
Pimp That Character
Tuesday, April 12 – Book Review at
Books, Reviews, ETC.
Wednesday, April 13 – Guest Blogging at
The Bookworm Lodge
———-
Monday, April 18 – Interview at
Confessions of an Eccentric Bookaholic
Tuesday, April 19 – Book Review at
The Recipe Fairy
Wednesday, April 20 – Guest Blogging at L
ori's Reading Corner
———-
Monday, April 25 – Book Review at
Mary's Cup of Tea
Wednesday, April 27 – Book Review at
Ali-The Dragon Slayer
Friday, April 29 – Book Review at
Harlie's Books