(From Front Page of Book)
BOOK DETAILS
(from PUYB)
ON TOUR
February 1 – April 29!
Meet the Author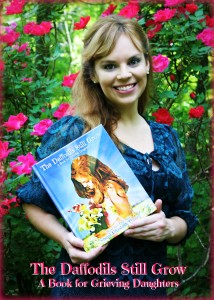 The Daffodils Still Grow
was inspired by diary entries of the author/illustrator, Sherri Elizabeth Tidwell, after the death of her mother when she was 14. "My mother committed suicide when I was 14, and after nearly a year of crying and hurting, I was surprised — almost shocked — to see the daffodils she planted right before her death still bloom again. It was a big wake-up call to me that, even though she was gone, I could still carry on without her FOR her. Somehow, our loved ones still find a way of communicating with us when we need it the most." Sherri Elizabeth now attends Seton Hill University's MFA program in Writing Popular Fiction. She has a BA in both communications and studio arts from Austin Peay State University. She hopes that every parent will know how irreplaceable and loved they are to their children and that every child who has lost a parent will know they are not alone. Remember, the daffodils still grow!
For More Information
Sherri Elizabeth Tidwell is giving away a The Daffodils Still Grow T-shirt!
By entering the giveaway, you are confirming you are at least 18 years old.
One winner will be chosen via Rafflecopter to receive one The Daffodils Still Grow t-shirt
This giveaway begins February 1 and ends April 29.
Winners will be contacted via email on April 30.
Winners have 48 hours to reply.
Good luck everyone!
ENTER TO WIN!
REVIEW
This book is a wonderful gift to children of any age who have lost a mother. Losing a mother at any time in your life can be devastating,but at a early age, it can be life changing. The author, Ms. Tidwell has written about losing her mother at the age of 14. She views all of the things she remembers about her mother now that she is gone. Her mother is everywhere. In her daily activities, the thing of her mother's that are around the house, she's everywhere.
Grief is not an easy thing for anyone. It's hard for an adult to go through the grieving process, let alone a child who doesn't know how to process all the things they are feeling and thinking. Some children don't know any way to express themselves except anger. Life and death are hard subjects to talk about, especially to a child. I feel this book would be good to start a very young child out with so if something does happen, they are a little prepared. It might ease the child's mind of some of the "scary" feelings they have. The book is written in a way that is easy to understand with some very nice illustrations to go along with it. It helps the child to relate to something that is still there and will be. And so "The Daffodils Still Grow". A wonderful addition to your child's reading shelf. We need more books that help children through life processes. To make life not so "scary". A lovely and heart warming book.
I received a complimentary copy of this book from the author, Sherri Elizabeth Tidwell, for my unbiased review. No other compensation took place.
I would give this book 5 STARS.
———————-
Tour Schedule

———-
———-
———-
———-
———-
———-
———-
———-
———
———
———————-
LINKS
AMAZON BUY PAGE
PUYB
FACEBOOK
TWITTER
AMAZON REVIEW LINK