PUMP UP YOUR BOOK
VIRTUAL BOOK PUBLICITY
TOURS
IS
PLEASED
TO PRESENT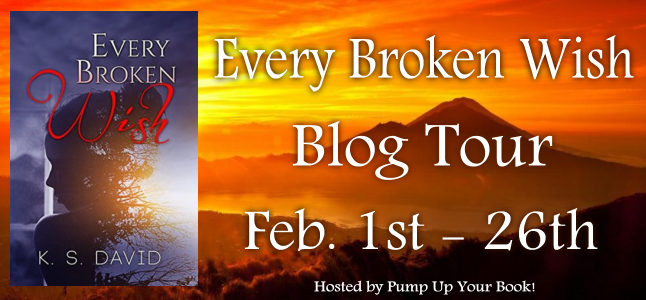 BOOK DETAILS
(from PUYB)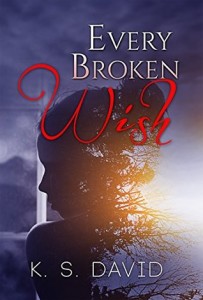 Title: Every Broken Wish
Author: K.S. David
Publisher: Createspace
Pages: 173
Genre: Romantic Suspense
Litha Adams cleared her schedule, deciding to spend the day at home. She needed a break from her chaotic life. She picked a perfect sunny day to relax and just hang out in the garden. Nothing prepared her for the sudden appearance of Ethan Garner. She had walked away from him and spent every day since, building a life on her terms. By day's end, she had another problem. Strangers were in her home. Litha found herself locked away with Ethan as interlopers hunted for treasure. Then came the realization that she was their target. They were hunting for her.
For More Information
AUTHOR
K. S. David lives in the Mid-Atlantic with her husband, their three children and a menagerie of pets.
New story lines are constantly running through her head and she keeps notebooks tucked in pockets of the car, the nightstand and makes voice recordings just about all day long. She's addicted to true life mysteries and crime shows, both of which marry well with a great romance. Some of her favorite things are long walks, reading in bed, baking and of course, writing her next novel.
Her latest book is the romantic suspense,
Every Broken Wish
.
For More Information
REVIEW
Litha Adams had been leading a very tumultuous life. So this particular day, she made her day free. She was going to take a break and just relax. It was the perfect day for that. The sun was shining and the garden was lovely. As the reader you could picture Litha sitting in a lawn chair admiring her flowers. But all good things must come to an end and they did. Who did she look up and see? She thought she was rid of him. She had made a choice and left him. Ever since she has been trying to make her life HER life. And here he was, Ethan Garner. That was the least of her problems for her relaxing, sun shiny day. She finds she is trapped, not only with Ethan but someone much more dangerous. Hunters! What were they hunting for? The author took one person's life and showed how it can go from something lovely to something dangerous in a blink of the eye. Well written and the character descriptions were as though you were right there. Pick up a copy and find out what happens to Litha's day and also, what were the hunters hunting? Reality will set in.
I gave my unbiased review. No compensation took place.
I would give this book 5 STARS.
LINKS
TOUR SCHEDULE
———-
———-
Monday, February 22
– Interview at
Examiner