RHYMES WITH LOVE
The Gift of Poetry
by
Carolyn Trolano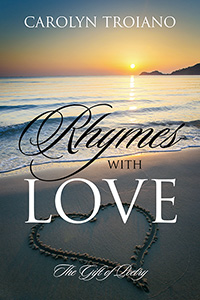 SUMMARY
(from Amazon)
"Rhymes with Love" is a compilation of a lifetime of joyous tribute by the author to her family and friends. The poems have been expressly written to honor personal celebrations, as well as the surmounting of life's challenges. These are the things that we must pronounce, when we can, as an acknowledgement of our innermost feelings that we share with each other. What better way to do that than through the lyrical strains of personal poetry, written for a very specific audience, yet universal in all meaning and sensibility. Carolyn Troiano has succeeded in capturing the very heart of her readers through her imagery in verse. There is no better way to tell someone you love how you feel about them than to frame one of these poems and present it as a gift. The author's poems began as an effort to reach out to others and express how she felt about them, about their situation, and to provide a sense of admiration and hope. We are not in these circumstances alone, and through her poetry, the author reminds others we are here to support and boost our fellow man, no matter how sad or downtrodden they have become. The poems cover a range of human conditions, from birth to death, and all things in between. These poems have universal themes the author brings to life through, as they dance gaily off of the very pages on which they are written. There is a line in each poem that will tug at your heart and make you feel as if it was written about you, or one you love. There is no greater love than the love we have for mankind, and there is no greater language for expressing it than through the language of poetry, simple and sweet. The author attributes much of her inspiration and hard work to her parents, Dan and Martha McKillop, and to Jack Simpson, a kind and gentle soul who once said "we're here to help each other," giving true meaning and purpose to life. The author's poems reflect that sentiment, and bring into clear view what we all need to consider, and to do, as
About the Author
Carolyn Troiano is a writer and poet with a gift for touching the hearts and minds of readers. Her work includes poems that describe the feelings we associate with special occasions and events in our lives. Carolyn's poetry is universal, representative of every person's desire to celebrate great times and rise above challenging moments. The collection is inspirational, offering a message of determination, gratitude and hope. We all need these things in our lives...
Such inspiration in words of poetry in this little book. If you have someone that is sad or having a bad time, give them this book. They will find heartwarming poetry that will make them feel better. In this collection of poetry can be found something that will take your innermost feelings and put them into poetry. Through these poems you will find yourself connected with family and friends within your hearts and minds. This kind of connection has to be put into rhymes with love. This lovely book would make a good gift for anyone or for anyone to buy for that day when you need something to warm that heart up.
I received a complimentary copy of RHYMES WITH LOVE from the author, Carolyn Trolano and Outskirts Press for my view of the book.
I would give this book 4 STARS.