5 STARS
PUMP UP YOUR BOOK
VIRTUAL BOOK TOURS
PROUDLY PRESENTS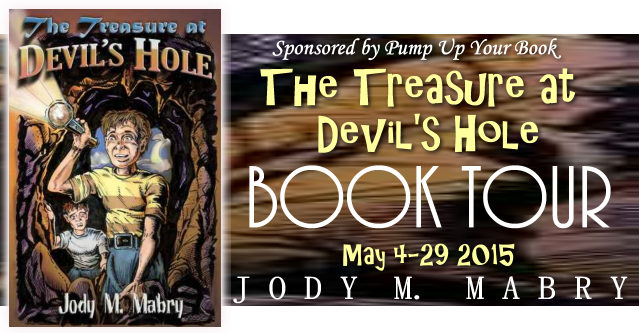 Pump Up Your Book is pleased to bring you Jody M. Mabry's THE TREASURE AT DEVIL'S HOLE virtual book tour May 4-29!
THE TREASURE AT DEVIL'S HOLE
by
Jody M. Mabry
How Would You Feel If You Had A
Legendary Treasure Right In
Your Own Back Yard?
SUMMARY
(from Amazon)
How would you feel if you knew you had a legendary treasure right in your own back yard? Francis "Bug" Mosser knows, and will do nearly anything to find it, even if it means defying the most villainous person he knows—Mom! Standing in Bug's way is his nemesis Tad Prickers, the red headed, pock-holed bully who's suddenly been seen walking Bug's girl, Melanie, home from school—worse, the walk ends with a kiss. Then there is the mysterious bald stranger and Miss Julia Brandon's boyfriend who seems a little "too-classy" for the town of Possum Trot. With the help of his brothers, and best friend Billy—along with his not-so-secret desire to impress Melanie Grainger—Bug goes off in search of fortune and glory, thwarting bad guys, stolen clothes, and explosions to find the one surprise about the treasure that he would have never dreamed of...
(from PUYB)
"Jody M. Mabry's "The Treasure at Devil's Hole" is a refreshing return to classic adventure, a genuine stand-out among modern YA fare. It calls to mind works such as "The Adventures of Tom Sawyer," right down to the requisite treasure hunting, villains, expansive caverns, complicated young love, and rule-breaking exploits intelligent, free-spirited boys simply can't resist. Well written and wonderfully paced, it keeps you on the edge of your seat from start to finish, with a clever resolution you never saw coming. I found this to be a delightful read, and in fact completed the book in one sitting, unable to put it down. Looking forward to Mabry's next work, I hope one is in the works." – Amazon
Biography
REVIEW
Ever so often I love reading middle grade or young adult books. THE TREASURE AT DEVIL'S HOLE was a wonderful, very humorous adventure story. Ms. Mabry
appears to have a wonderful talent for imaginative stories that mix life with personality in a plot that is interesting and very creative. The story has everything from hidden treasure, adventures, evil villains while a crush is in the works. The book is full of imagery and the humor just doesn't let you go until the end. It takes hold of you. The book is well written with characters that the author has set firmly in the story and then builds on them as the plot continues. The story is filled with adventure, fun, comedy, lots of action which keeps the reader's interest and turning the pages. This book is a very interesting and fun read that would be great for kids and kids at heart.
I was given a complimentary copy of THE TREASURE AT DEVIL'S HOLE from the author, Jody M. Mabry and Pump Up Your Book for my view of the book.
I would give this book 5 STARS.
Product Details
Paperback: 224 pages
Publisher: CreateSpace Independent Publishing Platform (April 21, 2012)
Language: English
ISBN-10: 1453776737
ISBN-13: 978-1453776735
LINKS
AMAZON BUY PAGE
BOOKS REVIEWS ETC
PUYB
AMAZON REVIEW