YOU WANT TO WHAT?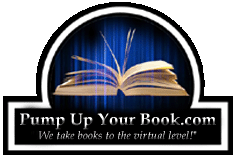 A Memoir of Marriage, Mime and Moving On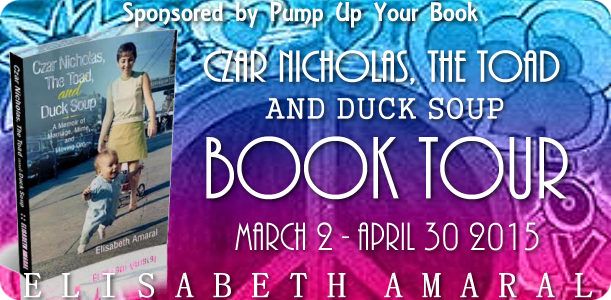 Title
: Czar Nicholas, The Toad, and Duck Soup
Author
: Elisabeth Amaral
Publisher
: iUniverse
Pages
: 324
Genre
: Memoir
Format
: Paperback/Kindle/Nook
The mid-1960s through the mid-1970s was a heady, turbulent time. There was a lot going on back then, and author Elisabeth Amaral was in the middle of it all: the fights for women's rights, racial equality, a music revolution, be-ins, love-ins, riots in the streets, the rage against the Vietnam War, and sex, drugs, and rock and roll. It was an amazing time to be young.
In Czar Nicholas, The Toad, and Duck Soup, Amaral shares her recollections of those times. She and her husband gave up their jobs in New York City, relocated to Boston with their infant son because of mime, unexpectedly started a children's boutique, and opened a popular restaurant in Harvard Square. Most of all it is a coming-of-age story about herself and her husband as they embarked on an improbable and moving journey of self-discovery.
With sincerity and humor, Czar Nicholas, The Toad, and Duck Soup offers a personal and revealing account that reaches out to those who find themselves striving to make a relationship work that, by its very nature, may be doomed. But this story is also one of friendship—and of finding the courage to move on.
"A truly wonderful memoir that reads like great fiction. The characters come alive on the page." – Elizabeth Brundage, author of The Doctor's Wife and A Stranger Like You.
"The story of how Liz Amaral and her husband became successful at the epicenter of counterculture businesses near Harvard Square / Cambridge from 1967-1975 with their boutique and restaurant is told with humor and insight. Swirling around them are all of the entrapments of the era, the drugs and free love and betrayal, as well as the politics that defined the times.
With a fierce dedication to her son and husband, Liz Amaral triumphs in this stunning memoir where she discovers that, while love isn't always what we think it is, it remains, in all its multi-faceted transformations, the driving force of who we are and how we live our lives." – P.B. O'Sullivan, writer and mathematician
"In her intimate and humorous memoir, Liz Amaral reveals the challenges of a young family establishing a home in Cambridge amid the tumult of the late 1960s. You will discover the disconcerting truth about her marriage and the painful path she takes to find herself again. A true adventure of the heart." – Kathrin Seitz, writer, producer, and coach
For More Information
Czar Nicholas, The Toad, and Duck Soup is available at Amazon.
Pick up your copy at Barnes & Noble.
Discuss this book at PUYB Virtual Book Club at Goodreads.


A native New Yorker, I have lived in the city for much of my life. My first jobs after graduating from NYU were jewelry design and case worker for the Departments of Welfare of New York City and Cambridge, Massachusetts. This was followed by co-ownership of a children's boutique (Czar Nicholas and the Toad) and a restaurant (Duck Soup) in Cambridge near Harvard Square. I then worked as an industrial purchasing agent in New Jersey, and for the last 25 years have been a real estate broker in Manhattan, accumulating stories of the wonder and madness that is this city. I published a book of short stories (When Any Kind of Love Will Do), wrote two children's books and a memoir (Czar Nicholas, The Toad, and Duck Soup), and am currently working on a novel.
For More Information
Visit Elisabeth Amaral's website .Connect with Elisabeth on Facebook. Find out more about Elisabeth at Goodreads. Contact Elisabeth.
REVIEW
This was a hard time for everyone during those years.
The author wrote a wonderful memoir of her life. Told about moving, people move all the time for many reasons. In 1967, the Summer of Love, Orlando, Elisabeth and 10 month of Nicholas were walking down the street with not a care in the world. Elisabeth loved living where they were. She thought it was perfect. Orlando on the other hand thought about moving to Boston. He wanted to study with some mimes he had worked with. Elisabeth didn't like this idea. She thought it was crazy. He gave her the excuse of doing it for Nicholas. She didn't go for that one. What he was asking, she wasn't going for. No Way! Orlando told her that times and the whole atmosphere was changing. Of course, she knew he was right. She promised to leave for three months and if it didn't work out, they would leave. She said they could leave after her birthday in November. She told him, "That's the deal." The author wrote a humorous, at times sad book filled with so much detail of their lives and the way she felt about their new journey. Will it work out in Boston? Will they leave? Run to your nearest book store and pick up a copy and read, read and enjoy. If they don't have it, ask them to order it.
I was given a complimentary copy of CZAR NICHOLAS, THE TOAD, AND DUCK SOUP from the author, Elisabeth Amaral and Pump Up Your Book Virtual Tours for my view of the book..
I would give this book 5 STARS.