4 STARS
ATTENTION:
The "N" word is used frequently in the book due to the subject matter.

January 6 – March 28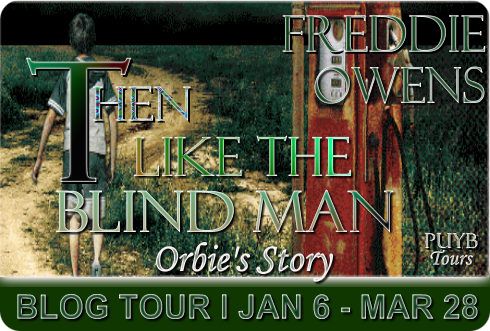 THEN LIKE THE BLIND MAN
Orbie's Story
By
Freddie Owens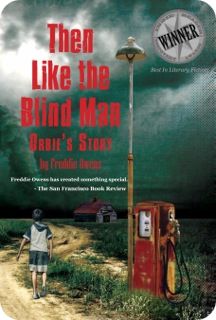 INTRO
A storm is brewing in the all-but-forgotten back country of Kentucky. And, for young Orbie Ray, the swirling heavens may just have the power to tear open his family's darkest secrets. THEN LIKE THE BLIND MAN: ORBIE'S STORY is the enthralling debut novel in the segregated South of the 1950's and the forces he must overcome to restore order in his world.
Nine year old Orbie already has his cross to bear. After the death of his father, his mother Ruby has off and married Victor,a slick talking man with a snake tatoo. Orbie hates his stepfather more than he can stand; a fact that lands him at his grandparents' place in Harlan's Crossroads, Kentucky,. Orbie grudgingly adjusts to life with his doting Granny and carping Granpaw, who are a bit too keen on their black neighbors for Orbie's taste, not to mention their Pentecostal congregation of snake handlers. Soon, however, he finds his worldviews changing, particularly when it comes to matters of race, religion and the true cause of his father's death.
Publisher: Blind Sight Publications
Pages: 332
Language: English
Genre: Historical Fiction/Coming of Age
Format: Paperback & eBook
AUTHOR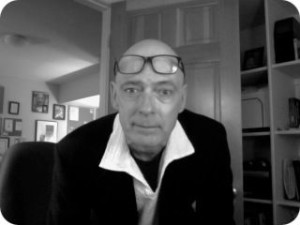 Dead Chicken Memories...
Freddie Owens here, coming to you from the blog-o-sphere, which in reality is an over sized closet with squares of burgundy foam glued to the walls for sound absorption. That's it, that's what the blog-o-sphere is, or at least how I imagine it to be all over the world, closets everywhere populated by The Lone Rangers of Hope and Fear, i.e., bloggers of the existential and the mundane, of the profound, the funny and the 'give me a break'. Anyway I thought I'd include a few words here about me and how I came to write this historical thriller (forward slash) Backwater Hamlet, Then Like The Blind Man: Orbie's Story. I would that you find them of interest. (I do, of course, but I don't count.) Go figure.
I was born in Kentucky but grew up around Detroit. I would sometimes spend a week or two, once I spent six weeks, in Kentucky, staying with cousins or with my grandparents. And yes, it was an entirely different world for me, providing some of the best and worst times of my growing up years. I had a great time on a dairy farm with several of my cousins, milking cows, hoeing tobacco, running over the hills and up and down a creek that surrounded the big farm. I remember too, periods of abject boredom, sitting around my grandparent's place with nothing to do but wander about the red clay yard or kill flies on my grandmother's screened in back porch. Some of this did come out in the novel.
In the novel's acknowledgements I assert the usual disclaimers having to do with the fact that Then Like The Blind Man was and is a work of fiction, i.e., a made up story whose characters and situations are fictional in nature (and used fictionally) no matter how reminiscent of characters and situations in real life. That's a matter for legal departments, however, and has little to do with subterraneous processes giving kaleidoscopic-like rise to hints and semblances from memory's storehouse, some of which I selected and disguised for fiction. That is to say, yes, certain aspects of my history did manifest knowingly at times, at times spontaneously and distantly, as ghostly north-south structures, as composite personae, as moles and stains and tears and glistening rain and dark bottles of beer, rooms of cigarette smoke, hay lofts and pigs. Here's a quote from the acknowledgements that may serve to illustrate this point.
"Two memories served as starting points for a short story I wrote that eventually became this novel. One was of my Kentucky grandmother as she emerged from a shed with a white chicken held upside down in one of her strong bony hands. I, a boy of nine and a 'city slicker' from Detroit, looked on in wonderment and horror as she summarily wrung the poor creature's neck. It ran about the yard frantically, yes incredibly, as if trying to locate something it had misplaced as if the known world could be set right again, recreated, if only that one thing was found. And then of course it died. The second memory was of lantern light reflected off stones that lay on either side of a path to a storm cellar me and my grandparents were headed for one stormy night beneath a tornado's approaching din. There was wonderment there too, along with a vast and looming sense of impending doom."
Freddie Owens is giving away a Kindle Fire HD!

By entering the giveaway, you are confirming you are at least 18 years old.
One winner will be chosen via Rafflecopter to receive the Kindle Fire HD.
This giveaway begins January 24 and ends March 28.
Winner will be contacted via email on Monday, March 31, 2013.
Winner has 48 hours to reply.
Good luck everyone!
ENTER TO WIN!
REVIEW
For a nine year old, Obie has suffered a lot. A tragic accident took his father's life and left him with a way too soon stepfather, Victor. Victor barely has anything to do with Orbie. Soon Orbie is in Kentucky with his grandparents. His Momma says they will come back for him after they get settled in Florida, but will that happen?The setting is in the late 1950's, prejudices of race are out in the front for this coming of age story. Orbie has alot of hatred when he arrives in Kentucky, for his stepfather, God and black people.Orbie uses his foul mouth to keep at bay any one who might care for him. Granpaw has a mouth to and a sense of humor that is plain evil. Granpaw and Granny both feel that Orbie just doesn't care about equality and church. Soon Orbie understands how little he really understands about life. His Granpaw and Granny both and a new friend help him to see that new experiences aren't always bad. He needs to open his heart and eyes to new things,new ways and new people. It takes time for Orbie to grow up and change. The author has Orbie develop at a very normal rate and this is true to life. The author wrote quite a bit of Magical realism into the plot. I really enjoyed that. I love anything magical. There are many serious subjects such as child abuse, racism, violence in the home which the author deals with in the book. The people in this book were written to true life as though they were real. You felt as you read that you could very easily be in this setting and traveling with Orbie through his coming of age. I would recommend this book to anyone who likes coming of age stories or stories about issues that face us everyday. One thing I didn't like about the book, was the use of the "N" word. I feel it could have been approached differently. Grab a copy and read for yourself. This is a work of fiction but feels so real.
I received a complimentary copy of THEN LIKE THE BLIND MAN by Freddie Owens from Pump Up Your Book for my view of the book.
I would give this book 4 STARS.
LINKS
THE FRED FILE
MY BLOG: BOOKS REVIEW ETC
AMAZON BUY PAGE
AUTHOR'S SITE
TWITTER
FACEBOOK
GOODREADS
PUMP UP YOUR BOOK
LINKS
http://bemiown.blogspot.com
https://www.goodreads.com/book/show/16252712-then-like-the-blind-man?ac=1
http://www.shelfari.com/books/31782569/Then-Like-The-Blind-Man-Orbies-Story/readers-reviews
http://www.amazon.com/Then-Like-Blind-Man-Orbies/dp/1475084498