4 STARS
A Natural Remedies Mystery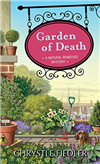 INTRO (from Night Owl Reviews)
Number: 9781476748917
Release: March 24, 2015
Author: Chrystle Fiedler
Availability: Print-Book
Genre: Suspense
Tags: * SUSP: Mystery, * SUSP: Cozy
Publisher: Pocket Books
When a local doctor is found dead in Willow McQuade's medicinal garden, she must find the killer to clear her boyfriend's name in this third clever book in the Natural Remedies Mystery series. Dr. Willow McQuade, owner of Nature's Way Market & Café, has put the finishing touches on a new medicinal plant garden for Greenport's annual Maritime Festival and is ready for the festivities to begin. But it's not all flowers and sunshine at the grand opening, when Willow discovers the body of another contestant, Dr. Charles White, face down in her garden. Willow's hunky boyfriend, Jackson Spade, immediately becomes a suspect due to a recent fight with Dr. White. Willow knows she has to remedy the situation, but it won't be easy with the other applicants' vendettas and vandals wrecking her garden at every turn. And when she finds buried treasure in her garden that just might belong to the legendary Captain Kidd, the stakes become even higher. Was Dr. White searching for that treasure? Did someone kill him to get to it first? With the help of Jackson and her eccentric ex-boyfriend, Willow follows the clues to uncover the truth that someone wants buried… But can she dig up enough evidence before she becomes the killer's next victim? (Copyright NightOwl Reviews)
REVIEW
This author, Chrystle Fiedler wrote an interesting mystery about a death in a medicinal garden. This is book three in this Natural Remedies Mystery series. Festivities are about to begin for the annual Maritime Festival but all is not well at the grand opening. Another body found face down in Willow's garden. This is a good addition to the plot, two murders in gardens. The author writes Willow's boyfriend, Jackson Spade as the suspect. There could be other suspects as the author writes about the vendettas and vandals wrecking her garden every time she turns around.The author puts another little bit of spice to the mystery. Something else besides dead bodies is found in the garden. This little bit of spice could possibly be the reason for the deaths, possibly? Will Willow find the person or persons who are murdering people? Why in the garden? Can Willow figure it out before she becomes the next target? I don't want to give away anything else. Pick up the book and follow Willow as she tries to figure out the secret of the garden and how it relates to the dead bodies.
I received a complimentary copy of GARDEN OF DEATH from the author, Chrystle Fiedler and Night Owl Reviews for my view of the book. (Copyright NightOwl Reviews)
I would give this book 4 STARS.
AUTHOR
Chrystle Fiedler is a writer who specializes in alternative health topics and the author or coauthor of four nonfiction books:
The Complete Idiot's Guide to Natural Remedies
,
The Country Almanac of Home Remedies
,
Beat Sugar Addiction Now!
, and the
Beat Sugar Addiction Now! Cookbook.
Chrystle made her fiction debut with
Death Drops,
first in its series. Visit ChrystleFiedler.com.
LINKS
BOOKS REVIEWS ETC
NIGHT OWL REVIEWS