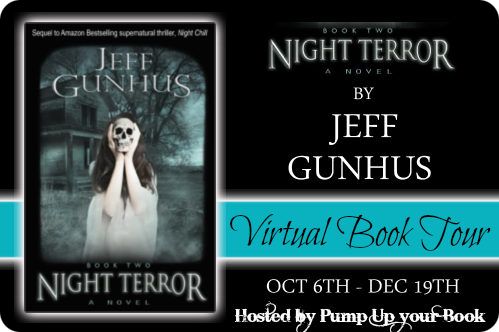 Pump Up Your Book is pleased to bring you Jeff Gunhus'
NIGHT TERROR
virtual book tour October 6 – December 19!
NIGHT TERROR
Night Chills
Book Two
by
Jeff Gunhus
Publisher
: Seven Guns Press
Pages
: 400
Genre
:
Supernatural Thriller/Horror
Format
: Kindle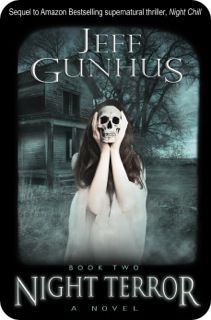 Ten years after her abduction and near-sacrifice to the Source, Sarah Tremont struggles to be a normal teenager. As much as she's tried to suppress the power inside of her, it's grown dangerously strong and has drawn the attention of those who want to possess her power for themselves.
The nightmare that she thought was long over starts again as powerful forces descend upon Prescott City to seek her out. With her parents and Joseph Lonetree's help, Sarah must stand up to an evil much more powerful than the one she faced in the caves a decade earlier. But in the end, she discovers the greatest danger might come from the power living inside of her.
For More Information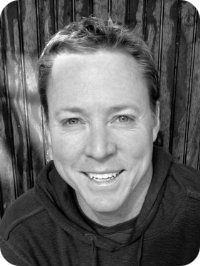 Jeff Gunhus is the author of both adult thrillers and the Middle Grade/YA series, The Templar Chronicles. The first book,
Jack Templar Monster Hunter
, was written in an effort to get his reluctant reader eleven-year old son excited about reading. It worked and a new series was born. His book
Reaching Your Reluctant Reader
has helped hundreds of parents create avid readers. As a father of five, he and his wife lead an active lifestyle simply trying to keep up with their kids. In rare moments of quiet, he can be found in the back of the City Dock Cafe in Annapolis working on his next novel.
His latest book is the thriller/horror novel
, Night Terror
.
For More Information
REVIEW
The minute you look at the cover, you're ready to dive in. Sometimes I feel that Mr. Gunhus writes very chilling and gruesome tales. There was something more about this book than chilling and gruesome. I haven't read Book One and I wish I had. I'd like to know what was the demise of the characters in the first book, NIGHT CHILL. The beginning leaves nothing to be desires. The beginning is a short chapter about a ten year old getting eaten and yet still being enough alive to feel what its going on. GRUESOME! I would say yes. If you don't like GRUESOME! now is the time to quit. Of course, the book isn't continually about that kind of horror. The book kept its' pace even though there wasn't that gruesome horror on every page. Mr. Gunhus did a wonderful job of combining bits of horror and gruesome gore with some psychological horror. I know as a horror fan, I like the psychological part also. I think as a reader, it combines the story and the characters with each other at just the right pace. Then just for a little fun, Mr. Gunhus puts in a dash of suspense. Mr. Gunhus did a good job of taking the characters and aging them as the story goes forward. This Book Two would be 10 years into the future of the first book. I found this book to be one of the best horror tales I've read for some time. The book was written for all of us readers who love that horror and grit. Please read NIGHT CHILL before NIGHT TERROR so you'll get the jest of what is going on. You might get a bit confused if you don't.
I was given a complimentary copy of NIGHT TERROR from the author and PUYB Publicity Tours for my view of the book. No other compensation took place.
I would give this book more than 5 STARS but since I can't I'll give it 5 SOLID STARS