5 STARS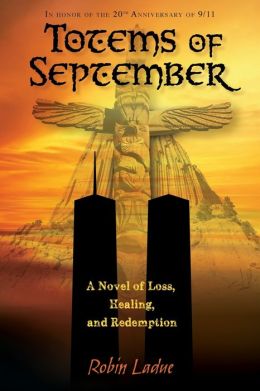 TOTEMS OF SEPTEMBER
A Novel of Loss,
Healing and Redemption
by
Robin LaDue
and
Mary Kay Voss
Editor: Barbara Kindness
Cover Design: Laura Zugzda
Interior Design: Stephanie Martindale
Illustrations: Rhys Haug
Title Page Illustration: Donald Voss
INTRO
(from Amazon)
In their first historical novel, Totems of September, Native American Emmy-nominated author Robin LaDue and journalist Mary Kay Voss use the Native American storytelling tradition of circles on circles and lives on lives. It is interspersed with the culture of the Northwest and Plains tribes through the use of animal legends and myths.
The juxtaposition of Wyoming's Devils Tower and the tragedy of September 11 brings to light little-known Native American history as well as current themes: US soldiers' struggle through the fog of war, PTSD stemming from the wars in Afghanistan and Iraq, the devastating health risks of 9/11 rescue workers.
Three memorable characters--dating from the early 1900s to 2006--their lineage and their families are woven together through the threads of history, human connections, hope and redemption.
The tenacity, warmth, humor and love of Geronimo Barse and Billy Hawk shine through their painful experiences in the Indian boarding schools, World War II, and the loss of so many loved ones.
Lola LeFleur and all the LeFleur women before her and to follow fight desperately to change their perceived destiny.
The warmth and healing of the Ranch, and the stability of Devils Tower in a world of terror, are integral factors in the rebuilding of so many shattered lives.
AUTHORS
DR, ROBIN LaDUE:is a retired clinical psychologist formerly in private practice in Washington State. She was born in Seattle but raised in the Sacramento, California area.
Robin's grandfather and great-uncles were survivors of the Cushman Boarding School, having been removed from their parents and experienced the horrors of having their hair cut, not being able to speak their language, and losing their culture. This heritage, along with Dr. LaDue's passion for helping Native women raise healthy babies and addressing the problems of oppression and loss in Native communities, were driving forces in her personal and professional life.
She received her Master's and Doctorate degrees from Washington State University; has been affiliated with the University of Missouri, Kansas City, and with the University of Washington's Department of Psychiatry and Behavioral Sciences, the Native American Center for Excellence, and Waikato University in Hamilton, New Zealand.
The award winning author of the Journey through the Healing Circle books and video, Dr. LaDue has lectured worldwide on the effects of prenatal alcohol exposure and historical trauma in Native American communities, as well as the treatment for and consequences of psychological trauma, including traditional Native methods of treatment. She is an enrolled member of the Cowlitz Indian Tribe of Washington. This is her first historical novel.
MARY KAY VOSS:
was born in West Texas and grew up in Houston. She has lived in Texas, California, Tokyo, and Washington State and considers herself a misplaced Texan in a Washingtonians body. Mary Kay's professional career has revolved around the financial industry, She was a stockbroker, when that was unusual for women, and has had her own company for over twenty-five years. A former instructor in financial planning and insurance topics for continuing education, Mary Kay credits the club with exposing her to a much wider selection of books than she might have ever chosen on her own. Her passion for reading also has led to an exciting journey into community theatre, Where Mary Kay has been a regular performer on stage as well as on the managing board of the Driftwood Players in Edmonds, WA. Of her collaboration with Dr. LaDue, she says, "Robin has an extremely creative mind, probably actually channeling the old Native Americans, and I had the pleasantly rewarding job of enriching the pages by smoothing the writing style and enhancing the readability. It is a great match of talents." Mary Kay has been married to Didrik for over thirty years; is a mother and grandmother.
REVIEW
Very seldom do you find a book that mixes together racism, different cultures, and history. Two women got together and wrote this wonderfully powerful book. Dr. Robin LaDue is of native American heritage and is a retired clinical psychologist. Mary Kay Voss, an actress, teacher, author and editor. As the reader is reading the story is pressed into the mind even after you have finished reading it. This story focuses on that awful, fateful day of 9/11. That day and the events present a tone for a Native American story which was acted out by tribal members with their own ideas of 9/11 from the early 20th century to the present day.
The book is beautifully illustrated with birds and animals. The authors wrote not only a book about 9/11 but about the different cultures and the Native Americans of our country. Another major role that played a part was the WWII, Vietnam,Afghanistan and Iraq. Those who survived with PTSD were an important part of the book. As you reach the end you have a hunger for peace and for all of us, no matter what cultures, to get along. Religion, no matter what it is, should not cause hatred or discord among us. Everyone should be allowed to practice the religion that they believe it. The authors wrote this book with such compassion and descriptions of the different aspects of the book. My opinion is that: People of all cultures should join together and forget our petty differences and make our worlds better instead of fighting over trivial matters that blow up into these huge issues where a resolution isn't found or doesn't want to be found.
I was given a complimentary copy of TOTEMS OF SEPTEMBER from the authors, Robin LaDue and Mary Kay Voss for my view of the book. No other compensation took place.
I would give this book 5 STARS.
LINKS
bemiown@yahoo.com
http://bemiown.blogspot.com
http://www.amazon.com/review/R1400QPU5E2XDZ/ref=cm_cr_rdp_perm?ie=UTF8&ASIN=1940598001