4 STARS
NO CHRISTMAS LIKE THE PRESENT
by
Sierra Donovan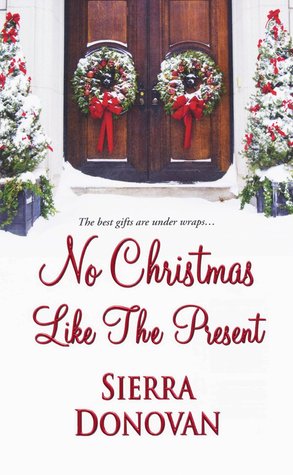 INTRO
(from Goodreads)
Lindsay Miller is knee-deep in Christmas cards and homemade fudge, but she's never felt more like a Grinch. Why can't Christmas be full of magic, like in her favorite movie, A Christmas Carol. . .?

. . .Enter Fred, a sexy and eccentric stranger who arrives at Lindsay's door out of the blue. Dressed like he just stepped out of a Dickens novel, complete with British accent, Fred claims he's a Messenger, sent from "Headquarters" to help her discover the joy of Christmas. But is Fred an angel from above—or just stone cold crazy?

Fred's used to dealing with skeptics. Telling a stranger you've been ordered to inspire holiday cheer is a tough sell. But there's a further complication. Fred's mission is to help Lindsay right the wrongs from her past that have been holding her back. But somehow along the way, they've become wildly attracted to each other—and falling in love is not part of the plan. Fred only has 'til the stroke of midnight on Christmas Eve to guide Lindsay to the magical future she deserves—even if it's a future without him
Paperback
,
256 pages,
Expected publication: October 7th 2014 by Zebra
(first published January 1st 2014)
ISBN 1420134205
(ISBN13:

9781420134209

)
REVIEW
The author wrote a wonderful story that will make you feel good inside. It's about a young woman, Lindsay Miller who loses the whole purpose of what Christmas is for. She is so busy with decorating and preparing that she has totally lost the true purpose of Christmas.
A strange, odd Englishman appears from no where and tries to help her get her priorities about Christmas set right. Lindsay calls him "Fred" and so Fred he was. The author wrote a very good lesson into this book. Slow down and enjoy the season along with friends and relatives. Get rid of past problems that have been held on to for way too long. It's a season for renewal. The author has the two characters, Lindsay and Fred falling into a mutual attraction. The story is a great read for any time of year, not just Christmas. The author left the reader with the question? Was Fred really human or just someone sent to help a human? The author made Fred very human even if he wasn't. The author wrote a wonderful Christmas read or just a read for anytime you feel that need for the spirit of togetherness and a little romance.
I was given a complimentary copy of NO CHRISTMAS LIKE THE PRESENT from the author, Sierra Donovan and Night Owl Reviews for my view of the book. No other compensation took place.
I would give this book 4 STARS.
AUTHOR
Sierra Donovan
is a wife, a mother of two and a writer, though not always in that order. Her job and greatest joy is helping people find true love on the printed page. She's the author of
Love on the Air
, which was a Holt Medallion finalist, and
Meg's Confession
.
She's also a firm believer in Christmas, chocolate fudge and happy endings, all of which you'll find in this book.
LINKS
www.nightowlreviews.com
bemiown@yahoo.com
http://bemiown.blogspot.com