SOME CHAPTERS HAVE EROTIC CONTENT
Father of Alicia Silverstone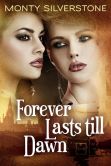 In the marketplace of a small Ukrainian village, two beauties dance. They dance because poverty gives them no choice; dancing is the only way they can supplement their parents' pitiful wages.
Dancing draws attention when you're beautiful; not all of it is welcome. Drawn into a web of deceit, rape, and tyranny, the girls flee the Ukraine, seeking a new life in 1904 London.
Fleeing the country of their birth, they board a ship bound for England. They encounter trouble on board, from an overzealous doctor.
Arriving in a strange new land and unable to speak the language, the young women find a much-needed friend in a Russian tea shop owner, who finds them work in his restaurant's kitchen. Even so, they find themselves, once again, dancing in the streets to help pay the rent at their Soho boardinghouse.
Once again their dancing attracts attention, this time from a well-known impresario who sees talent and possibility in the two friends. Meeting him sets the girls on two very different paths. One rises to a position of power in affairs of state, while the other forges a successful show business career.
Tragedy and adversity dog both friends' careers, intermingled with triumphs and love. Perhaps, one day, two poor Ukrainian dancers will find the happiness they deserve.
Paperback: 388 pages
Publisher: CreateSpace Independent Publishing Platform (July 15, 2014)
Language: English
ISBN-10: 1493654519
ISBN-13: 978-1493654512
Born in London, England, Monty Silverstone is the father of Alicia (
Clueless
), Kezi (singer and composer), and David (real estate broker). He became a citizen of the United States in 1972, after a holiday in Florida.
Over the years, Monty has been a restaurateur, racehorse owner, real estate broker, land developer, and property manager. A child actor in England, Monty returned to acting after a long hiatus. His acting experience includes movies, television, and commercials. He is noted for his role as Fagin in
Oliver
in theaters throughout California.
Monty met the love of his life, Didi, when she worked as a flight attendant for Pan Am. They currently reside in Rancho Santa Fe, California, with their pet dogs.
Monty teaches acting for adult high schools in Solona Beach, California, and also provides private classes in Rancho Santa Fe. In addition to
Forever Lasts Till Dawn
, Monty has written an autobiography, a horse-racing book, and a book for actors of all ages. More information can be found at his website, www.MontySilverstone.com.
This book is a novel about two young ladies. They run from the Ukraine to London. Their new homeland was a struggle at first. It was hard to learn the language and work toward success. At last one finds a business job and the other an acting job. As they find love, they go their separate ways and have separate lives. After a while they get back together and work at re-establishing their closeness. To make money they both danced on the streets of the Ukraine to make money.
The author wrote a story of three generations who were very close, not only by love, but by bloodline. Mr. Silverstone told a wonderful story of coming out of poverty to arise to success. It wasn't easy by far, doors opened and closed in their faces.
The story has a mixture of erotic scenes, some violence and tyranny.
A lot of what the author wrote was drawn from his own family's life and the fictional characters on stage and in business. As you read the book, you may wonder if parts of it are from Alicia's growing up and her experiences. A wonderful book about rags to riches and the trials and tribulations to go from poor to rich. Some readers may relate to the book through their ancestry. Wonderful described characters and scenery. Lovely Cover.
I was given a complimentary copy of FOREVER LASTS TILL DAWN from the author, Monty Silverstone for my view of the book. No other compensation took place.
I would give this book 4 STARS.
scotloren@westwindcos.com
http://bemiown.blogspot.com
https://www.goodreads.com/review/show/1037946221
http://www.amazon.com/review/R1Z7DUURXG0YX8/ref=cm_cr_rdp_perm?ie=UTF8&ASIN=1493654519
http://www.barnesandnoble.com/w/forever-lasts-till-dawn-monty-silverstone/1119966606?ean=9781493654512