THE FORTUNE HUNTER
A NOVEL
BY
DAISY GOODWIN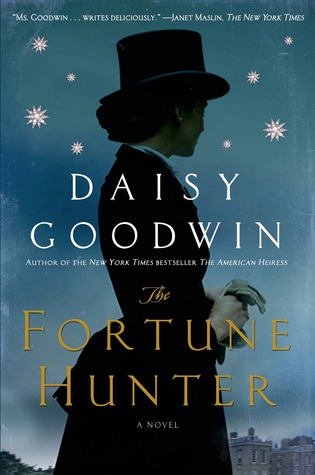 SUMMARY
Empress Elizabeth of Austria, known as "Sisi," is the Princess Diana of nineteenth-century Europe. Famously beautiful, as captured in a portrait with diamond stars in her hair, she is unfulfilled in her marriage to the older Emperor Franz Joseph. Sisi has spent years evading the stifling formality of royal life on her private train or yacht or, whenever she can, on the back of a horse. Captain Bay Middleton is dashing, young, and the finest horseman in England. He is also impoverished, with no hope of buying the horse needed to win the Grand National—until he meets Charlotte Baird. A clever, plainspoken heiress whose money gives her a choice among suitors, Charlotte falls in love with Bay, the first man to really notice her, for his vulnerability as well as his glamour. When Sisi joins the legendary hunt organized by Earl Spencer in England, Bay is asked to guide her on the treacherous course. Their shared passion for riding leads to an infatuation that threatens the growing bond between Bay and Charlotte, and all of their futures.The Fortune Hunter, the brilliant new novel by Daisy Goodwin, is an irresistible story of thee public lives and private longings of grand historical figures.
Paperback: 480 pages
Publisher: St. Martin's Griffin (March 31, 2015)
Language: English
ISBN-10: 1250043905
ISBN-13: 978-1250043900
About the Author
DAISY GOODWIN, a Harkness scholar who attended Columbia University's film school after earning a degree in history at Cambridge University, is a leading television producer in the U.K. Her poetry anthologies, including
101 Poems That Could Save Your Life,
have introduced many new readers to the pleasures of poetry, and she was Chair of the judging panel of the 2010 Orange Prize for Fiction. She and her husband, an ABC TV executive, have two daughters and live in London.
The American Heiress
was her first novel.
REVIEW

I love novels about the Victorian era. This book was about the battle between two strong women for the love of a cavalry officer, quite handsome indeed. He was a known horseman and also a well known womanizer. Captain Ray Middleton. The two women who were seeking his affection were Empress Elizabeth of Austria, a raving beauty and Miss Charlotte Baird of England, not bad looking but not a raving beauty.
It appears to me that the author has done a good deal amount of research, not just about the era but about language, manners, social elements. I found all these things fascinating. To think how much our world has changed. The way people present themselves and act is so different than back in this era.The author doesn't give you time to sit and wonder about these things. The pages keep flowing, not too fast and yet not at a slow boring pace.
I did find where some of the historical facts were changed, but I feel they were changed to fit into the storyline. It didn't change my opinion of the book at all.I also believe that sometimes all the research possible can have it'
s flaws. It's word passed down through generations and eras.I know there were things such as the timing of the engagement that was a stretch and the making off Charlotte Baird into a photographer may have not been her forte even though she was a shipping heiress. Being a shipping heiress doesn't mean she was involved in the day to day operations. After all, we have to remember that this is Historical Fiction. It may be inaccurate in places but that doesn't take away from a good fictional read. I found the book to be a great fun read, what with a dashing officer, an heiress who prefers to hide in the background instead of in front of the camera, she preferred the dark room.We can't pass by the malicious soon to be sister in law of the heiress. We all like at least one character that we would like to get our claws in. There is so much in this book to set your teeth into. love, malice, dashing men, beautiful women. and much more. How could you not pass by a few changes in time frames.? I would recommend this book to anyone who loves Historical fiction. This book gives you a little bit of it all. This was my first Daisy Goodwin book but I intend on reading more from this author.
I was given a complimentary copy of THE FORTUNE HUNTER from the author Daisy Goodwin and NightOwlReviews for my view of the book. No other compensation took place.
I would give this book 5 GOLDEN COINS.
LINKS
www.nightowlreviews.com
http://bemiown.blogspot.com
bemiown.blogspot.com