PRESENTS

GREG MESSEL'S
FOG CITY STRANGLER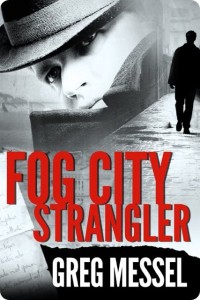 Title: Fog City Strangler
Series: Sam Slater Mysteries
Author: Greg Messel
Publisher: Sunbreaks Publishing
Pages: 453
Language: English
Genre: Mystery/Romance
Format: Paperback, Kindle
SYNOPSIS (from back of book)

As 1958 nears an end San Francisco is being terrorized by a man who calls himself the "Fog City Strangler," who preys on pretty young blonde women. The strangler announces each murder by sending a note and piece of cloth from the victim's dresses to the local newspapers.
Private eye Sam Slater is worried that the Fog City Strangler may be eyeing his beautiful blonde wife, stewardess Amelia Ryan. Sam's angst mounts as the strangler continues to claim more victims. His anxiety is further fueled when TWA launches an advertising campaign with Amelia's picture on a series of billboards plastered all over the city. Sam fears the billboards may attract too much attention–the wrong kind of attention.
Meanwhile, Sam and Amelia are hired to try to find the missing daughter of a wealthy dowager who fears she has lost her only child. The
missing
woman went for a walk with her dog on Stinson Beach, near San Francisco, and seemingly vanished into thin air. The woman's husband arrived at their beach house and found the dog running loose but there was no trace of his wife. The police are stumped in their investigation.
As Sam and Amelia look into the disappearance of the woman on the beach they discover that nothing is as it seems at first glance. On a stormy night a shadowy figure sets fire to the beach house where the couple is staying–hoping to stop their investigation.
Fog City Strangler is a stand-alone thriller but is part of the Sam Slater Mystery Series–Last of the Seals, Deadly Plunge and San Francisco Secrets.
REVIEW
(from Back Cover) As 1958 nears and end, San Francisco is Being Terrorized by a man who calls himself the
"FOG CITY STRANGLER,"
I haven't had the pleasure of reading any of Mr. Messel's books. I wish now I had and I certainly intend to. As the author starts the book, we have the fog rolling in around San Francisco. We have a man wandering around strangling women. He prefers blondes, pretty and young. After he kills one, he sends a note and a piece of clothing to the newspapers. As you can imagine, fear is growing. I know I was really getting a little edgy. Of course the best time to read these kind of mysteries is late at night, when it is storming. I was on the edge of my chair as the pages turned. As time goes by, more and more blondes are being murdered. One pretty blonde, in particular just happens to be a private eye's wife. That private eye is Sam Slater. Mr. Messel had you in the middle of a page and you couldn't read fast enough to turn to the next. I've read a lot of mysteries but this is one of the best I've read. The author give you a little fear, suspense, mystery and wonder. As you read you wonder how the murderer met his victims and why just blondes? You hurt for them and their families. To me a good mystery is when you have some real feelings about the characters. Mr. Messel gives you that. Even though it is fiction, you feel a reality about it.
Sam Slater and his wife, stewardess Amelia Ryan become involved in a case of a missing woman. Her mother said she went down by the Stinson Beach to walk her dog and didn't come home. The police are notified when her husband came home and found the dog loose and no wife. Someone is trying to stop Sam and his wife because they are coming too close to an answer.
Will Sam and his wife solve the mystery? Will the police find another victim? Will the murderer be found? The author weaves a web of deceit and murder that twists and turns with every page. This is one book that you don't want to let sit on a shelf. This is a book that you will read and re-read. The book is a stand alone but I, myself have got to get the other three. This is one author I will definitely keep track of. So grab yourself a copy of this no ordinary mystery and follow private eye, Sam Slater and see if you can solve the crimes.
I was given a complimentary copy of FOG CITY STRANGLER by Greg Messel from Pump Up Your Book Virtual Tours for my personal opinion. No other compensation took place.
I would give this book 5 ROPES.


Greg Messel grew up in the San Francisco Bay Area and now lives in Edmonds, Washington on the Puget Sound with his wife, Carol.
Fog City Strangler
is his seventh novel and is the fourth in a new series of Sam Slater mystery novels. Greg has lived in Oregon, Washington, California, Wyoming and Utah and has always loved writing, including stints as a reporter, columnist and news editor for a daily newspaper.
Follow news about Messel's writings and books at
www.gregmessel.com
.
Connect & Socialize with Greg!
Greg Messel is giving away a 3 book set of his Sam Slater Mystery Series (Last of the Seals, Deadly Plunge and San Francisco Secrets AND a $25 Amazon Gift Card!

By entering the giveaway, you are confirming you are at least 18 years old.

One winner will be chosen via Rafflecopter to receive the 3 book set and $25 Amazon Gift Card.

This giveaway begins February 3 and ends on March 28.

Winner will be contacted via email on Monday, March 31, 2014.

Winner has 48 hours to reply.