PUYB PROUDLY
PRESENTS
A Thriller To Die For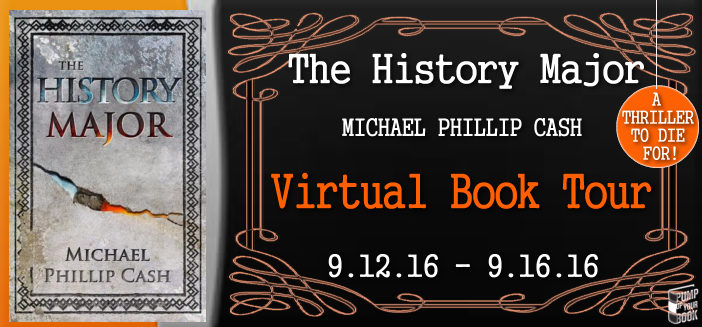 Inside the Book
Title: The History Major
Author: Michael Phillip Cash
Publisher: Chelshire, Inc.
Pages: 130
Genre: Thriller

After a vicious fight with her boyfriend followed by a night of heavy partying, college freshman Amanda Greene wakes up in her dorm room to find things are not the same as they were yesterday. She can't quite put her finger on it.. She's sharing her room with a peculiar stranger. Amanda discovers she's registered for classes she would never choose with people that are oddly familiar. An ominous shadow is stalking her. Uncomfortable memories are bubbling dangerously close to her fracturing world, propelling her to an inevitable collision between fantasy and reality. Is this the mother of all hangovers or is something bigger happening?



Michael Phillip Cash is an award-winning and best-selling novelist of horror, paranormal, and science fiction novels. He's written ten books including the best-selling "Brood X", "Stillwell", "The Flip", "The After House", "The Hanging Tree", "Witches Protection Program", "Pokergeist", "Monsterland", "The History Major", and "Battle for Darracia" series. Michael's books are on the Amazon best-seller list and have also won numerous awards. Additionally, he is a screenwriter with 14 specs under his belt. Michael resides on the North Shore of Long Island.
Michael's latest book is
The History Major
.
For More Information
MY THOUGHTS
Once again Mr. Cash has brought us another great read. This one is about a college freshman, Amanda Greene. Waking up with a hangover, from too much partying, and a big fight with her boyfriend, Amanda realizes things aren't as usual. The room isn't quite right. She has a new dorm mate that is rather peculiar. She discovers she is enrolled in classes that she wouldn't sign up for. She thinks she knows some of the people around her in her history class,but something isn't right and she isn't quite sure what it is. The real creepy thing is someone or something is following her on her college campus. It's like a shadow. Amanda is experiencing some really weird things, flashbacks of real unhappy memories. What is happening to Amanda? What or who is following in the dark shadows?Is this a dream that Amanda hasn't woke up from? As always, Mr. Cash keeps you glued to the book, turning the pages as fast as you can. You don't want to miss a single thing. At 140 pages, I wish there had been more. You just can't put this book down. You'll be on the edge of your seat during the whole book.
The author makes you feel like you're in a dream with Amanda. Everything is cloudy and yet so clear. Things are just not right, but she can't put her finger on it. As you turn the pages, you get caught up in this mystery. You're wanting to figure this out but where do you start? The author slipped in little history facts here and there which was a nice addition and added to the title, THE HISTORY MAJOR.
This book has a purpose, no, a REAL purpose. That being...
Learn from the past and present
which will benefit you in the
FUTURE!
I received a complimentary copy of THE HISTORY MAJOR from the author, Michael Phillip Cash and PUYB for my unbiased review. No other compensation took place.
I would give this book 5 STARS.
Tour Schedule