PUMP UP YOUR BOOK
VIRTUAL BOOK TOURS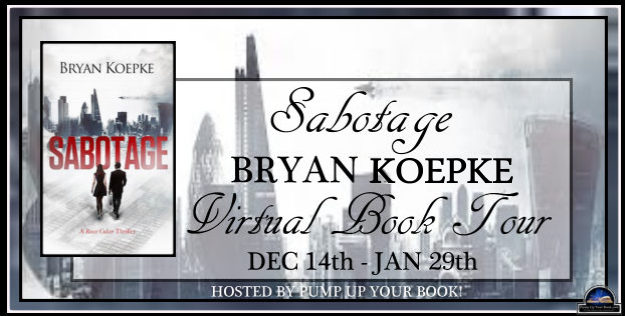 ABOUT THE BOOK
Bryan Keopke will be touring
December 14 – January 29 with his thriller,
SABOTAGE!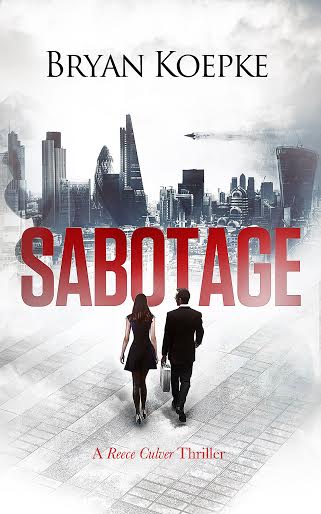 Title: Sabotage
Author: Bryan Koepke
Publisher: Writers Cabin Press, Ltd.
Pages: 316
Genre: Thriller
Reece Culver and his friend Haisley Averton travel to Scotland with only one thing on their minds – fishing. After witnessing an automobile accident involving a freelance journalist they quickly realize that something far greater than a crash caused his SUV to sink into the frigid waters of the North Atlantic.
With increasing curiosity, Reece inserts himself into the complicated life of Marie Rhodes who is in the middle of her own crises as she watches her 20-year marriage crumble.
Realizing that they'll never make it out fishing, Haisley uses his skills in computer forensics to find out who hacked into Karl Rhodes' office computer at Draecon International and made it appear that he'd remotely accessed the dead journalists laptop. As Haisley combs through logs on the chief of strategy's computer he stumbles upon an even bigger plot involving a secret drone factory somewhere in the United Kingdom, what looks like funds being embezzled out of Draecon International, and a plot that threatens the national security of the U.K.
Reece spends increasingly greater amounts of time with Marie Rhodes trying to learn what she knows and soon finds that he can't resist the temptation of falling in love with the woman of his dreams. But as things heat up he questions her true motives.
When Karl Rhodes' executive secretary is found dead Reece agrees to protect Marie's soon to be ex-husband Karl. In a tricky game of cat and mouse Reece travels the globe as he tries to keep Marie, her husband, and Karl's mistress out of harms way, and unknowingly puts himself directly into the crosshairs of a hired assassin.
For More Information
ABOUT THE AUTHOR
Bryan Koepke lives in the United States with his wife, and dog. He grew up in the midwest, settled in Arizona, and then twenty years ago made his way north to Colorado. He's a private pilot, Electrical Engineering Technician, and since 2009 has been employed as a Financial Analyst. Bryan has always had an interest in writing. He wrote his first stories at the age of 7. He started writing thrillers in 2010, and published his first book in 2014.
He holds an FAA Airframe & Powerplant Mechanic's license, Pilot's license, and has a BS in Finance. He's also taken multiple graduate level engineering classes. His many hobbies include hiking, fishing, skiing, and travel. He's an avid reader and enjoys watching television shows like 24, Homeland, Breaking Bad, The Blacklist, and Ray Donovan.
His latest book is the thriller,
Sabotage
.
For More Information
REVIEW
The author didn't fail to bring a second book in the Reece Culver series that didn't disappoint. We have the former detective Haisley Averton from St. Louis combining forces with PI, Reese. While going off, to what they think is a relaxing trip to Scotland to do some fishing, the detective work begins. On their way, a shot is aimed at a SUV that a journalist is traveling in. Somehow both Reece and Haisley know that they aren't going fishing any more. Reece starts poking around and while doing so is introduced to a London Executive's ex wife. Reece has his hands full with the ex wife. Has love entered the story or is Reece just trying to get information from her? Reece finds himself traveling world wide to try to protect Karl, his ex, Marie and Karl's girlfriend from an assassin. Now there's a threesome. Are sparks going to fly? Haisley is hard at it trying to find a World War II airfield that seems to be making weapons that aren't World War II. They are drones. What are the weapons going to be used for? Mr. Koepke wrote a thriller that had characters you just had to love or hate. They were serious in one way but very humorous in another. The fast paced action keeps the reader turning the pages to find out what will happen next.Will Reece and Haisley find out who the assassin is? Will they find the airfield where the modern weapons are being produced? The story is well written and if you love thrillers, you'll love this second book in the Reece Culver series. Will Mr. Koepke bring us a third? Hope so!
I received a complimentary copy of SABOTAGE from the author, Bryan Koepke and PUYB for my unbiased review. No other compensation took place.

I would give this book 5 STARS.

LINKS