5 MICE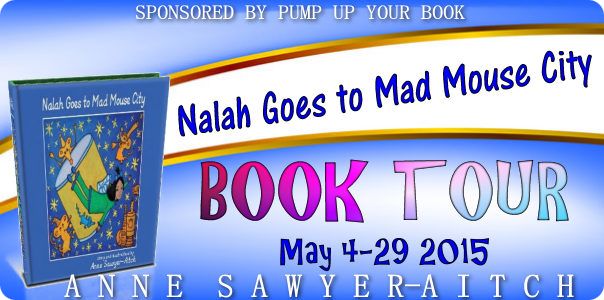 Pump Up Your Book
Presents
Nalah Goes to Mad Mouse City
Adventures of Nalah
Book Two
Virtual Book Publicity Tour
Pump Up Your Book is pleased to bring you Anne Sawyer-Aitch's NALAH GOES TO MAD MOUSE CITY virtual book tour May 4-29!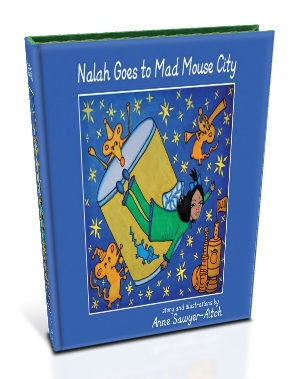 Title
: Nalah Goes to Mad Mouse City
Author
: Anne Sawyer-Aitch
Publisher
: Magic Lantern Press
Pages
: 44
Genre
: Children's Picture Book
Format
: Paperback
The adventures of Nalah continue! One day Nalah finds herself bored and lonesome because all of her imaginary friends have gone away on vacation. But wait – not all. Mad Tooth, the little mouse who lives in her sock drawer, is still busy munching away on her knee-highs. When she finds out why Nalah is sad, she offers to take her down through the sock drawer into a mouse metropolis. The result is a tale of wild dancing, cousins and mice, taffy and a sock monster.
"Gorgeously illustrated with a process I've only seen before in Anne Sawyer-Aitch's 1st book, Nalah and the Pink Tiger. My 4-year-old particularly enjoyed the x-ray view of the stilting guard of Mad Mouse City, and was inspired to make several of her own versions of the illustration. Another fun story with a relatable young girl as protagonist and vivid fantastic characters she encounters." – E. Bestrom, Good Reads reader
For More Information
Nalah Goes to Mad Mouse City is available at Amazon.
Discuss this book at PUYB Virtual Book Club at Goodreads.
Product Details
Series: The Adventures of Nalah (Book 2)
Paperback: 44 pages
Publisher: Magic Lantern Press; 1st edition (2014)
Language: English
ISBN-10: 0692342958
ISBN-13: 978-0692342954


Anne Sawyer-Aitch (pronounced like the letter "H") is a puppeteer and stilt-walker. When she decided to create her first book, Nalah and the Pink Tiger, she began experimenting with different styles of illustration, and finally discovered a technique that uses her skills as a maker of color shadow puppets. She calls it "Illuminated Illustration", and it involves cut-away designs, layering, and back lighting. In her capacity as a puppeteer, Anne creates puppet pieces of all kinds: parade floats, giant stilt puppets, and intricate color shadow shows. She is a MN State Arts Board Roster Artist, teaching puppetry all over the state, and has been touring around with her first book & her Nalah and the Pink Tiger show for the last two years. Nalah Goes to Mad Mouse City is her second book. She lives in Minneapolis, Minnesota.
For More Information
REVIEW
Nalah's adventures continues. Nalah's imaginary friends have all gone away on trips so Nalah is all alone and bored. But, have they all gone away? A little mouse that lives in the sock drawer named Mad Tooth is busy chewing on Nalah's knee highs. Once Mad Tooth finds out that Nalah is sad, Mad Tooth decides to take Nalah into the mouse city down deep in the sock drawer. What fun they had. Dancing cousins and mice, taffy and even a sock monster. The author wrote a wonderful children's book about a journey into Mad Mouse City when Nalah is so sad. It's hard when you're alone. But somewhere out there, there is someone that wants to be your friend. The illustrations are so colorful and eye catching. They keep little ones attention when normally their attention span is very low. A story of making new friends, even if they are imaginary. Every child should have an imaginary friend.
Every child should read or be read to about the journey of Mad Tooth and Nalah into Mad Mouse City. You'll be so surprised.
I received a complimentary copy of NALAH GOES TO MAD MOUSE CITY from the author, Anne Sawyer-Aitch and Pump Up Your Book for my view of the book.
I would give this book 5 MICE.
LINKS
BOOK DESIGN AND LAYOUT
BOOKS REVIEWS ETC
AMAZON BUY LINK
MAGIC LANTERN PRESS
AMAZON REVIEW