PUMP UP YOUR BOOK
VIRTUAL BOOK
PUBLICITY TOURS
PROUDLY
PRESENTS
March 2-27, 2015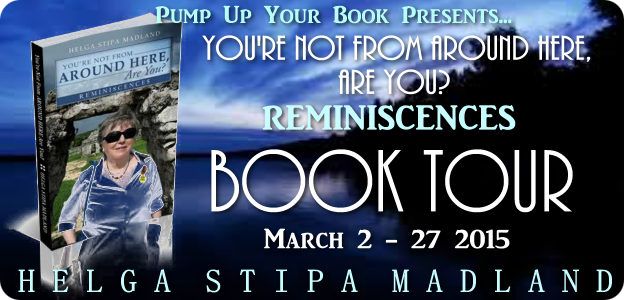 YOU'RE NOT FROM AROUND HERE,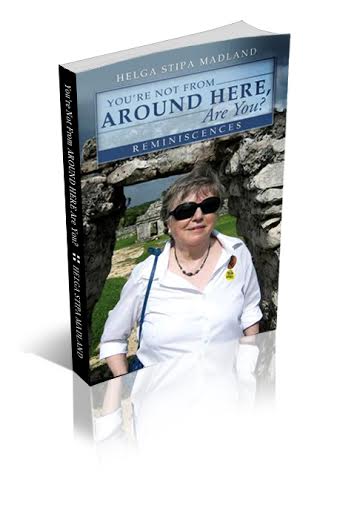 REVIEW
This is a story of the author's travels that starts when she was born. When a World War hit she then went to Norman. --Klodnitz, which is in Upper Silesia, which is now a part of Poland. This was the author's birthplace. At the end of WWII in 1945 everything collapsed. She and her family became refugees. They traveled across Germany and eventually settled in one small village. Then it went to another village. They went from Canada, US, Missouri and soon settled i Idaho where her Father found a job as a forester. She married and continued on her journey. California and back to Idaho, going to three different cities and ending up in Seattle. There she earned a PhD. She was alone since her children were grown and she was ready to find a permanent position. In 1981 she ended up in Oklahoma t the University of Oklahoma and has since lived there. The title of the book fits perfectly. She didn't stay in one place long enough for anyone to get to know her. She probably didn't get the chance to know her surroundings since she moved to the next town or State quite quickly. I wonder if her travels are over, even though she has been in Oklahoma since 1981? The traveling blood is still in her, will she continue her journeys.? The author could probably write a chapter by chapter book on the different places she has been although it may be hard since she moved so much. Must have been rather interesting to go to so many different places. It would have been nice if she could have settled for a bit of time so people could get to know her and she could get to know them and her surroundings. If you like books about travel, I would recommend this book to you. Traveling she did.
I received a complimentary copy of YOU'RE NOT FROM AROUND HERE, ARE YOU? REMINISCENCES from the author, Helga Stipa Madland and Pump Up Your Book for my view of the book.
I would give this book 4 STARS.
INTRO
(from PUYB)
Title: You're Not From Around Here, Are You? Reminiscences
Author: Helga Stipa Madland
Publisher: Aventine Press
Pages: 202
Genre: Memoir
Format: Paperback/Kindle
I start with when I was born, then there was a World War, and then I went to Norman.—Klodnitz, in Upper Silesia, now a part of Poland, was my birth place; when everything collapsed in 1945 at the end of WWII, my family and I became refugees. We trekked across Germany, to the west, and eventually settled in a small village and then another one. Next was Canada, then the United States, Missouri; eventually we settled in Idaho, where my Father, who was a forester, found a job. I did not stop there! I was married and continued my merry journey, California, back to three different cities in Idaho, and later Seattle, where I earned a PhD. My children were grown by then, I was alone and ready to find a position. That's when I ended up at the University of Oklahoma in 1981, and have been here ever since.
For More Information
You're Not From Around Here, Are You? Reminiscences is available at Amazon.
Pick up your copy at Barnes & Noble.
Discuss this book at PUYB Virtual Book Club at Goodreads.
AUTHOR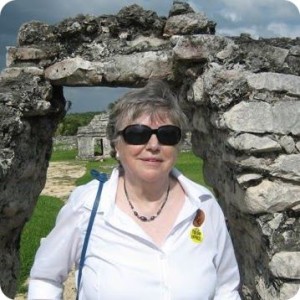 Helga Stipa Madland was born in Upper Silesia and emigrated to the United States with her family in 1954. She has three children and six grandchildren. She is
Professor Emerita at the University of Oklahoma and is the author of academic and other books. Her husband, Richard Beck, teaches Ancient Greek at OU in Norman, OK, where they live with a dachshund and four cats.
Her latest book is the memoir,
You're Not From Around Here, Are You?: Reminiscences
.
For More Information
LINKS