4 STARS
PRESENTS


FOR MORE INFORMATION
Three Days to Forever is available at Amazon.
Watch the book trailer at YouTube.
Discuss this book at PUYB Virtual Book Club at Goodreads.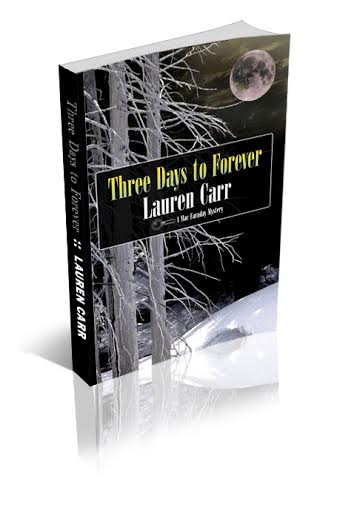 Title
: Three Days to Forever,
Author
: Lauren Carr
Publisher
: Acorn Book Services
Pages
: 466,
Genre
: Mystery
Format
: Paperback/Kindle
In this latest Mac Faraday Mystery from best-selling mystery author Lauren Carr, readers will embark on a rollercoaster adventure with old friends (including the Lovers in Crime team of Prosecutor Joshua Thornton and Homicide Detective Cameron Gates), but also meet new ones as Mac Faraday's daughter Jessica Faraday and Joshua Thornton's son Murphy Thornton join the team in the race to get the love birds to the altar!
With three days left to the year, Deep Creek Lake is hopping with holiday vacationers and wedding guests pouring into the Spencer Inn for Mac Faraday and Archie Monday's huge wedding ceremony which is being touted as the social event of the year.
But droopy flowers and guests who failed to RSVP are the least of Mac's and Archie's problems when a professional hit squad hits Spencer Manor to send the groom, Joshua Thornton, Archie's mother, and Gnarly running for their lives.
With time running out to the big day, Mac Faraday and Spencer's small police force have to sort through the clues to figure out not only who has been targeted for assassination, but also who is determined to stop everything … FOREVER!
"Lauren Carr's mystery novels are indeed one of my go-tos when I'm looking for a good whodunit." –Reviewer: Shana Benedict, ABookVacation Book Reviews.
"Lauren Carr does a good job of moving the quirky storyline along nicely with an abundance of witty dialogue. And you have no idea who the good guys are and who the bad guys are until the end." – Reviewer: Every Free Chance Book Reviews.
MEET THE AUTHOR



Lauren Carr is the best-selling author of the Mac Faraday Mysteries, which takes place in Deep Creek Lake, Maryland. Three Days to Forever is the ninth installment in the Mac Faraday Mystery series.
In addition to her series set on Deep Creek Lake, Lauren Carr has also written the Lovers in Crime Mysteries, which features prosecutor Joshua Thornton with homicide detective Cameron Gates, who were introduced in Shades of Murder, the third book in the Mac Faraday Mysteries. They also make an appearance in The Lady Who Cried Murder.
Three Days to Forever introduces Lauren Carr's latest series
detectives, Murphy Thornton and Jessica Faraday in the Thorny Rose Mysteries. Look for the first installment in this series in Spring 2015.
The owner of Acorn Book Services, Lauren is also a publishing manager, consultant, editor, cover and layout designer, and marketing agent for independent authors. This year, several books, over a variety of genre, written by independent authors will be released through the management of Acorn Book Services, which is currently accepting submissions. Visit Acorn Book Services website for more information.
Lauren is a popular speaker who has made appearances at schools, youth groups, and on author panels at conventions. She also passes on what she has learned in her years of writing and publishing by conducting workshops and teaching in community education classes.
She lives with her husband, son, and three dogs on a mountain in Harpers Ferry, WV.
For More Information
REVIEW:
The author writes a chilling spy thriller mystery . There's dealing with terrorists. The book covers all kinds of emotions, romance, drama, lots of action, humor and mystery. You may find yourself staying up to all hours reading this book to finish it. It doesn't take long since it is fast paced.
A marriage is to take place 18 months later between Mac and Archie. Then, of all thing, an assassination team hits Mac's house. This included Mac's future Mother -in-law Agnes Douglas, Joshua Thornton and Gnarly, of course. On top of that, Mack had put a murder suspect behind bars and now is getting threats from the husband.Some of the characters from previous Mac Faraday Mysteries and Lovers in Crime series, we meet again. A real treat is that Mac's two children, for t he first time, we get to meet. The problem being, so many people make good targets for murder.
After his divorce, Mac Faraday came into 270 million dollars. This came from his birth mother. Since Faraday is a retired homicide detective, you'd think he'd become the rich, flaunt it around type, but he didn't. Even though he is retired he still helps out at the station working murder cases. Poor Mac, he also became the proud owner of Gnarly, the dog. not your typical dog. Gnarly likes fun. He got a dishonorable discharge from the Military because he has a problem. I'll let you figure out what that is. The wonderful books that Ms. Lauren Carr writes are fun loving and will make you smile, laugh and not want to put the book down. This is a book you may want to keep to re-read at a later date.
I received a complimentary copy of THREE DAYS TO FOREVER from the author, Lauren Carr and Pump Up Your Book for my view of the book.