4 STARS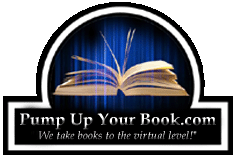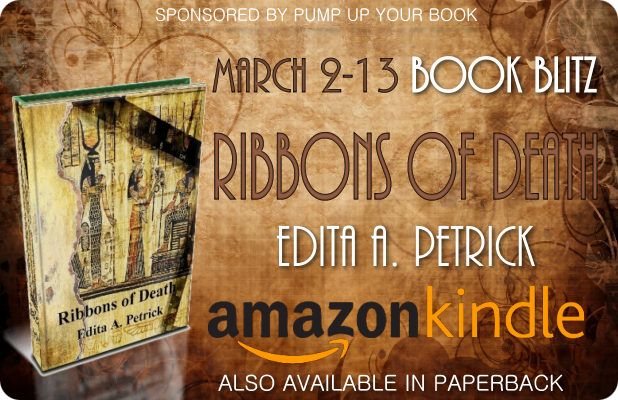 Pump Up Your Book
Presents
Ribbons of Death
Book Blitz!
Pump Up Your Book is pleased to bring you Edith A. Petrick's RIBBONS OF DEATH book blitz March 2 – 13!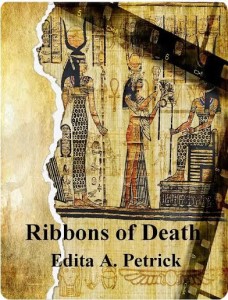 Title:
Ribbons of Death
Author
: Edita A. Petrick
Publisher
: Solstice Publishing
Pages
: 371
Genre:
Suspense Thriller
Format
: Paperback/Kindle
The ancients believed that once in a Blue Moon a child with Peacetaker powers is born. Such child, when grown to maturity, can seed murderous madness in people's minds by merely walking amongst them. A simple amulet activates the Peacetaker's powers. When a horribly scarred man knocks on the door of Stella Hunter's ramshackle cottage in upstate Montana, she lets him in. What's there to lose? The book critics killed her chances to warn the world about myths and legends behind the myths and legends.
But once the man pushes a book smudged with bloody fingerprints across the table, Stella sees a glimmer of hope. She may re-establish her credibility within the scientific community and vindicate her 'peace-taker' theory. She may also be murdered by anyone standing next to her if her theory is correct because the ancient curse is anything but extinct. In fact, the ancient curse has a new attitude….
Ribbons of Death is available at Amazon.

By profession, I'm an engineer and ten years ago, I left a corporate job to concentrate on writing. It was perhaps the scariest thing I've done. Of course, there were other considerations at the time, life, kids, economy and my mother who was battling cancer. I wrote as means of staying grounded because I had to hold it together. There was no one else to pitch in. There wasn't a single moment that I didn't have doubts about whether what I was doing was the right thing or not, but doubts come and go, while the need to write goes on forever. Since 2005 I've published 5 books and this year alone I have 6 new ones coming out. I live in Toronto with my family and our two pets – wheaten terriers. And whenever I'm tempted to look back, and start second-guessing my past decisions, I sit behind the computer and start another book. At least for me, that's a cure-all.
Blitz Schedule
REVIEW
Ms. Petrick wrote an exciting journey into what is a wonderful mystery. The journey is about a myth that comes to life. The author builds up the suspense with a creative amusing process that places Stella and Carter trying to come up with clues and answers. That isn't all they are thinking of. Their friendship that has been formed is on their minds too. The author wrote characters that are strong that go right along with the strong plot. Stella is in a marriage that is filled with some problems. How will the problem marriage work into Stella and Carter's relationship of trying to catch the Peacetaker? If you enjoy mystery, suspense, fantasy, legends and so much more than this book is for you. Sometimes it was a bit slow, but that gave the reader time to think about what was going on and what would happen next. A definite page turner.

I was given a complimentary copy of RIBBONS OF DEATH from the author, Edita A Petrick and Pump Up Your Book for my view of the book.

I would give this book 4 STARS.

LINKS