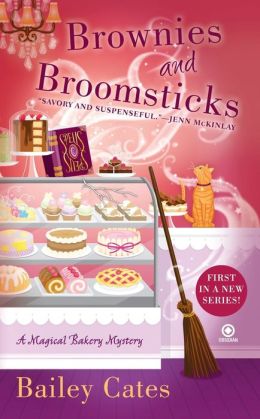 BROWNIES AND BROOMSTICKS
A MAGICAL BAKERY MYSTERY
BOOK ONE
by
Bailey Cates
Katie Lightfoot's tired of loafing around as the assistant manager of an Ohio bakery. So when her aunt Lucy and uncle Ben open a bakery in Savannah's quaint downtown district and ask Katie to join them, she enthusiastically agrees.
While working at the Honeybee Bakery—named after Lucy's cat—Katie notices that her aunt is adding mysterious herbs to her recipes. Turns out these herbal enhancements aren't just tasty—Aunt Lucy is a witch and her recipes are actually spells!
When a curmudgeonly customer is murdered outside the Honeybee Bakery, Uncle Ben becomes the prime suspect. With the help of handsome journalist Steve Dawes, charming firefighter Declan McCarthy, and a few spells, Katie and Aunt Lucy stir up some toil and trouble to clear Ben's name and find the real killer..
Series: Magical Bakery
Mass Market Paperback: 336 pages
Publisher: Signet (May 1, 2012)
Language: English
ISBN-10: 0451236637
ISBN-13: 978-0451236630
About the Author
Bailey Cates is the author of the Magical Bakery Mystery series, which includes
Brownies and Broomsticks
and
Bewitched, Bothered, and Biscotti
. She has studied philosophy, English, and history, and has held a variety of positions, ranging from driver's license examiner to soap maker. She also writes the Home Crafting Mysteries as Cricket McRae. Bailey lives in Colorado.
Johanna Parker, an
AudioFile
Earphones Award winner, has earned an esteemed Audie Award and three Audie nominations. She has received high praise for her work in all genres, including her portrayal of Sookie Stackhouse in Charlaine Harris's Southern Vampire Mysteries series (the source material for HBO's
True Blood
).
--This text refers to the Audio CD edition.
REVIEW
Ms. Cates has written a wonderful little cozy book that shows how friends and family can work together to help the family out. Savannah is on Katie Lightfoot's next and final stop. She hopes to work with her culinary skills

at her aunt and uncles' Honeybee Bakery. The Grand Opening is just a week away and they are busy putting on the final touches.
Ms. Mavis Templeton, Downtown Business Association member drops by to see if the Honeybee will be able to service the groups business brunch for a few day

s
Aunt Lucy immediately says

, NO PROBLEM.

They agree on the menu and set a price. The day of the brunch everyone is on pins and needles.As the brunch is breaking up Ms. Templeton gives Ben a check for the brunch but it wasn't the agreed amount. The have a rather heated argument and Mavis heads to her car, out front. Ben heads for the alley behind the Bakery to calm his anger and cool off.Soon it gets to Ben that there is a woman slumped over her steering whee

l

and it appears she has been shot.. Of course the woman is Mavis and who do you suppose is the prime suspect? Uncle Ben? Katie then learns a new secret about her Aunt and the ladies that have been helping at the bakery. What could the secret be? Katie also learns she could be a part of this secret. Do

es she want to or not?
Two men join the plot, Declan, a fireman and a friend of Ben's and Steve Dawes, who is a news reporter. The are all willing to help Katie find the killer. Here lies a big problem. They can't stand each other. That can create a huge problem.
They finally get on track and

each one uses their specialized skills to decide who the killer is.
I was given a complimentary copy of BROWNIES and BROOMSTICKS from the author, Bailey Cates and Night Owl Reviews for my honest view of the book. No other compensation took place.
I would give this book 4 STARS.
I would suggest if you are not into white, good witches, then this book is not for you. One other nice thing about the book is it includes recipes.
I loved the cove, nice and cozy!

LINKS
www.nightowlreviews.com