A TRIPLE KNOT
by
Emma Campion
(pen name : Candace Robb)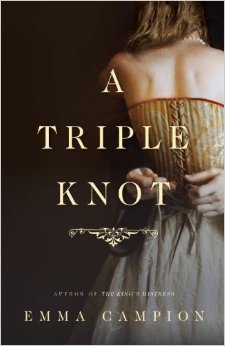 SUMMARY
(from Goodreads)
The critically acclaimed author of The King's Mistress brings another fascinating woman from history to life in an enthralling story of political intrigue, personal tragedy, and illicit love.
Joan of Kent, renowned beauty and cousin to King Edward III, is destined for a politically strategic marriage. As the king begins a long dynastic struggle to claim the crown of France, plunging England into the Hundred Years' War, he negotiates her betrothal to a potential ally and heir of a powerful lordship.

But Joan, haunted by nightmares of her father's execution at the hands of her treacherous royal kin, fears the king's selection and is not resigned to her fate. She secretly pledges herself to one of the king's own knights, one who has become a trusted friend and protector. Now she must defend her vow as the king—furious at Joan's defiance—prepares to marry her off to another man.

In A Triple Knot, Emma Campion brings Joan, the "Fair Maid of Kent" to glorious life, deftly weaving details of King Edward III's extravagant court into a rich and emotionally resonant tale of intrigue, love, and betrayal.
Published July 8th 2014 by Broadway Books
ISBN
0307589293
(ISBN13:

9780307589293

)
AUTHOR
REVIEW
The author wrote about a character from history who is little known. The story is about Joan, afterwards known as the Fair Maid of Kent. Joan's father was executed for being a traitor. Joan has been working hard to find her place in her royal cousin's house. No one will let her or anyone else forget the discretion of her father's demise. She is constantly reminded about what her father had done. It looks like maybe Joan has nothing going for her. Except, maybe her beauty. Joan has a cousin, Ned. We know him as Edward, the Black Prince. He has feelings for Joan. Joan doesn't return those feelings and even begins to doubt the trust she thinks she has in him. The author covers Joan's life from her childhood until her last marriage. The author tells through Joan's eyes of a threat that will be devastating. This book is an overview of a an event, not a judgement, just a view. A wonderful book that will keep you interested.
A Triple Knot is a fascinating maze from the past and puts the reader right next to the loves ,losses, tragedies,triumphs and many secrets of a strong willed woman, Joan, the Fair Maid of Kent. You can tell the author did a lot of research and through that research and her talent she brought a wonderful novel. I did enjoy the fact that the story takes you through Joan's entire life up until her last marriage. A wonderful book.The cover of the book makes you think. A TRIPLE KNOT? I felt the cover could have been better. To me it is rather dull and doesn't reach out to a potential reader.
I received a complimentary copy of A TRIPLE KNOT by Emma Campion and Blogging For Books for my view of the book. No other compensation took place.
I would give this book 4 KNOTS.
LINKS
http://bemiown.blogspot.com
bemiown@yahoo.com
www.bloggingforbooks.com
https://www.goodreads.com/review/show/999249408
http://www.amazon.com/review/R30BUHDZV7HXCZ/ref=cm_cr_pr_perm?ie=UTF8&ASIN=0307589293