NEW GUIDE PREPARES YOU TO SEE
A WOMAN'S WORTH THROUGH
THE EYES OF GOD
"Who can find a virtuous woman?
For her price is far above rubies." -
Proverbs 31:10
WHO YOU CALLIN' SILLY?
How A Silly Woman Becomes Virtuous
by
Kimberly R. Lock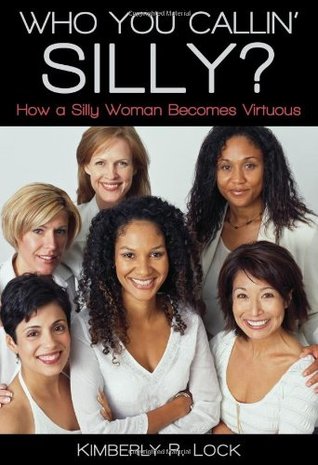 Published June 21st 2012
by TriMark Press (first published May 1st 2012)
OVERVIEW
WHO YOU CALLIN' SILLY? guides women to the path of virtuousness through three sections entitled: "All My Single Ladies," "I's Married Na!" and "Every Woman," which touch on the following subjects:
*Take control of your life by refusing to be defined by stigmas, stereotypes, prejudices, past mistakes and present challenges
*Transform any past hurts that have shaped your character into the silhouette of a woman of power with humbleness of mind, sincerity and gratitude
*Enjoy life as a responsible role model for yourself, other women and your children
*Reshape your entire foundation and take hold of an uncompromising future with boldness and confidence
Ms. Lock says it is her intention to get you to take an inward look at yourself and determine if you have been living up to the standards that God has established for women. She shares her own personal experiences and those of others to help us transform from silly women to virtuous women of God. She hopes to capture the audiences of the young and old, married and single women so that they can truly understand their self worth and value to the body of Christ, to society and to themselves' She says that if you have ever done anything that you are not proud of then this book is for you...God is not like man and HE forgives no matter what we have done. She tells the reader to let God, through these pages, be your guide to becoming virtuous!
This book is like no other; it's a book that requires the reader to take their time and take a retrospective view of their lives. More importantly, it encourages the reader to forgive themselves of past mistakes and understand their self-worth through God's eyes. There's also a free download of a workbook from the author's website: www.whoyoucallinsilly.com
REVIEW
I have to say I have difficulty with religious reads of this type. I believe there is a supreme being and that we should live our lives to their fullest, being the best we can be. I'm not knocking those who are totally religious and totally believe in the Bible. I just don't. This book if for those women who don't necessarily need this type of self help book.
I believe that your view of yourself comes from self confidence, the ability to face adversity with grace and the belief of a supreme being. Some believe God is the supreme being, but there are those of us who believe there is a different supreme being. I believe people are reaching out for something to hold on to, something to believe in and that is God. Some people attend church every Sunday and also during the week, along with Sunday School and all the other organizations that are a part of the church. Some of these people are putting on a show for those around them. Look at me, I'm a good church going person, which means I don't do wrong and I treat others with kindness and respect. I was a church secretary of a First United Methodist Church for 6 1/2 years. I dealt with all aspects of the church and it's running. My mind was blown away after about the first month. The hypocrisy, the back stabbing, the mis-treatment of the minister (who was a good man) and the tithing. I found it to be big business. Maybe if I had been in a small country church, I would have felt different. Some people go to church on Sunday, but what have they done on Saturday night? Is that Christian like? I think not. I don't believe a person has to attend church to worship the supreme being they believe in. You can pray and talk to that being anywhere. You can read the Bible of your choice anywhere. It doesn't have to be in a church. You can sing songs of praise and it doesn't have to be in a church. The church is just a building with all the fanciness to go with it. Does the being you pray to need the expensive adornments to be your Saviour> If that saviour does, then the reader is believing in the wrong thing. Jesus died on a wooden cross,. Where is the richness in that? I grew up being baptized as a Baptist. My father and one brother were Baptists. I attended Sunday School, went to Church, Youth Group, sang in the choir and all those things a good Christian should do. My mother, my sister and my other brother were Catholics. My sister was the only practicing Catholic. Don't ask me the logic in all of that. As far as I'm concerned there is none. I believe you have to live your life by doing what is right, by showing yourself as trying your best to be a good person. Going to church doesn't make you a good person. It only shows a person in church. It doesn't show the true person.
The author's book was totally religious. She definitely has a strong religious faith with being a pastor's wife and being the fill in for the Church's technical person. She gave up her job of Project Manger Systems Analyst for National Life Insurance Company to bring up her children, which I feel is commendable. Too many children today are latch key kids.
I feel the book is just too preachy, and that's just my opinion.
I don't like when author's do a review on their own book and in that review push their message. That, to me is a strict no-no. On top of that these authors are giving themselves 5 STARS. I thought the reviews were up to the reader to rate, not the author. I could be wrong.
If you like reading books that are pushing religion on every page, then this book is for you. If you have your own beliefs and don't want religion shoved in your face then this isn't the book for you. I'm not a person who likes to be told what to believe or what to do. I already know what I believe and I can figure out what to do with the things that face me. I believe, I just don't believe as the author of this book. This book just wasn't for me. It may be for you though. I must say I rather skimmed through some of the pages. It just wasn't connecting with me. But as I said, this is my own opinion. Grab a copy and gather your own opinion. That's what it's all about. Your opinion of the book, not the author's.
I was given a complimentary copy of WHO YOU CALLIN' SILLY by Kimberly R. Lock for my view of the book. No other compensation took place.
I would give this book 2 CROSSES

AUTHOR
Kimberly R. Lock assists her husband in the business aspects of running Unity Gospel House of Prayer (UGHOP), in Milwaukee, Wisconsin. In addition, she is a soloist in the choir and a member of the church's Praise Dance Team. Kimberly also administers UGHOP's website and social media, broadcasting daily messages of spiritual encouragement. Se is also the mother of five children.
Women from all walks of life are drawn to her for spiritual guidance. Her character is calm and meek, while her style is simply class. She is a woman of few and selected words, reflecting her passionate devotion to the Lord and her heart's commitment to developing women spiritually.
LINKS
bemiown@yahoo.com
http://bemiown.blogspot.com
www.WhoYouCallinSilly.com
www.facebook.com/whoyoucallinsilly
Twitter:@authorKimL
www.ughop.org
https://www.goodreads.com/review/show/949732986
http://www.amazon.com/Callin-Silly-Woman-Becomes-Virtuous-ebook/product-reviews/B008F07PBE/ref=dp_top_cm_cr_acr_txt?ie=UTF8&showViewpoints=1