Rose Wynters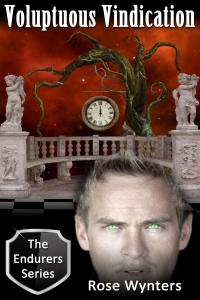 Series: The Endurers
Paperback: 414 pages
Publisher: CreateSpace Independent Publishing Platform
(November 26, 2013)
Language: English
ISBN-10: 1494437791
ISBN-13: 978-1494437794
Series: The Endurers, Book 4 The most explosive book in this series... Once upon a time, the world was just a black void. Then one day man came, but he wasn't alone. He was followed by an ancient evil, a scourge determined to steal his soul. Centuries passed. Humanity did all it could to protect itself against the evil ones, but they weren't equipped to fight this battle. Instead, all they could do was pray that Hell didn't set its eyes upon them. It got to be too much. Something had to be done. Born out of desperate need, warriors were chosen. Immortality was granted to those strong enough to fight the battle that would never end. No longer mortal, these men have stood in the path of dark and horrifying evil, bearing the load when there was nobody else that could. It's all coming to an end. Time has ran out for humanity... No good deed goes unpunished... Ian Bauer was the Endurer that had it all. With great looks and plenty of money, he had never regretted his immortality... But fate had other plans for him. Reeling from a tragic event, he's forced back into the fight between good and evil when demons set their sights on an mortal angel. He has to keep her alive for four weeks, something easier said than done. Ian never counted on the wicked attraction that flares up between them.
I haven't read any other books in this series but I did enjoy this one. One of the parts I believe any reader will enjoy is the immortal, strong, hunks of men that fall for the buxom women. One of the characters, Ian was such an obnoxious, self centered a--. I just wantedd to take him and shake him to wake up. As time went on, you couldn't help but fall in love with him. The author put in a hot, steamy romance between Ian and Sara was star bursting.. Sara was an angel and I felt for her. She had issues about the way she looked. She had low self-esteem. I found myself going through a lot of emotions while reading this book. I felt anger, I smiled, laughted and a time or two there was a little moisture in my eyes. Once you sart turning the pages, you wil findd you can/'t put the book down. When it ended, I wanted more. To me that is thesign of a good book, when the reader wants more.
I would reccommend this book to everyone. It is a good read and a keeper. So go out and grab a copy and follow Ian and Sara and find out wht is on that next page. You won't regret it.
I was given a complimentary copy of VOLUMPTUOUS VINDICATION by Rose Wynters from Buy The Book Tours for my view. N other compensation took place.
I would give this book 4 STARS.
So who is Rose Wynters? I'm many things including a paranormal romance author, traveler, adventurer, and adorer of extremely hot, alpha men! I'm also a hopeless romantic that enjoys excitement, fun, and the mysteries of life. I have a great love of romance and the supernatural, and I love combining them into romance books that push every boundary in the literary world. After all, shouldn't romance be thrilling, decadent, and especially sensual?
http://bemiown.blogspot.com
http://www.amazon.com/gp/cdp/member-reviews/A2XOT42O1AJ4GD/ref=cm_cr_pr_auth_rev?ie=UTF8&sort_by=MostRecentReview
https://www.goodreads.com/review/show/953517238