HAIR OF THE CORN DOG
Tales of Imperfection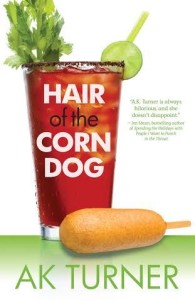 Title: Hair of the Corn Dog
Genre: Humor
Author: A.K. Turner
Publisher: Fever Streak Press
Pages: 220
Format: Hardcover/Kindle
In the latest laugh-out-loud confessional from A.K. Turner's "Tales of Imperfection" series, the author of
This Little Piggy Went to the Liquor Store
and
Mommy Had a Little Flask
relates her adventures on the Jersey Shore, at an Idaho drag show with her in-laws, and surviving the perils of an elementary school ice-cream social with equal parts wit and heart. The laughter pairs well with two parts cocktail.
A.K. Turner is the author of
This Little Piggy Went to the Liquor Store
,
Mommy Had a Little Flask
, and
Hair of the Corn Dog,
as well as a coauthor of
Drinking with Dead Women Writers
and
Drinking with Dead Drunks
. Her work has been featured in various publications and anthologies, including
Folio
Literary Magazine,
Leave the Lipstick, Take the Iguana
, and
I Just Want to Be Alone
. A former writer-in-residence and creator of "The Writers' Block" on Radio Boise, she lives in Idaho with her exceedingly tolerant husband and two daughters.
REVIEW
This book was a hilarious read. The author relates her experiences in a true way. Of course, we have to put the in laws in. There's always he in-laws. The book deals with a lot of everyday issues of family, Money, Planned Parenthood and even recent movies. I could tell you about all the crazy, hilarious moments in the book, but that would spoil it for you. Did you ever have a time when your child said something embarrassing in front of one of your friends.? I know, you wanted to crawl in a hole. This is a fun, well written, laughable and filled with so much reality of everyday life. I loved this book, Totally loved this book. There aren't many books these days that can bring out everyday problems and have you laughing your insides out. This author did it. Wonderful. We all need that belly laugh once in a while. W all need to lighten up on reality once in a while. This author allows that.
Grab the book and start laughing and thinking about your own situations that are just like the ones in the book. You won't be sorry.
I was given a complimentary copy of HAIR OF THE CORN DOG by AK Turner from PUYB for y view of the book. No other compensation took place.
I would give this book 5 Stars
http://bemiown.blogspot.com
bemiown@yahoo.com
http://www.amazon.com/gp/cdp/member-reviews/A2XOT42O1AJ4GD/ref=cm_cr_pr_auth_rev?ie=UTF8&sort_by=MostRecentReview
AKTurner.com
.
http://www.pumpupyourbook.com/2014/04/02/pump-up-your-book-presents-hair-of-the-corn-dog-virtual-book-publicity-tour/
https://www.goodreads.com/review/show/952822522