PUMP UP YOUR BOOK
PROUDLY PRESENTS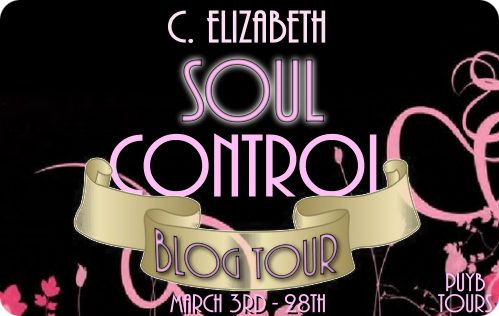 SOUL CONTROL
by
C. Elizabeth
"good vs. evil"
"Lead us not into temptation, deliver us from evil."
Overview:
(compliments of Goodreads)
Young Adult Paranormal Romance of love, loss and reconnection.

Words of truth for seventeen-year-old Saydi Gardiner upon discovering her ancestry. But if she has doubts, further confirmation is forthcoming and it comes in the form of a wickedly gorgeous Nathanael Braxton, when he steals her heart and cuddles into her soul – the last place the boy should be.
Nineteen-year-old Nathanael's unrelenting good looks aren't the only thing that make him dangerous – and he knows it! However, his caring human self struggles with a loyalty – a loyalty that binds him to the hunt for the soul that will give his family the power they seek. There's only one problem: When he finds her, Nathanael falls in love with his prey – Saydi
AUTHOR:

From the minute I started reading, I was turning the pages, not wanting to miss out on a second of what was going on. Edge of the seat reading from Page one to the end. The author gives you everything you could want in a good read. The book is written for YA readers but read on adults. Ms. Elizabeth wrote well developed believable characters even with their paranormal lives. Ms. Elizabeth gives you mystery, suspense, humor, appropriate YA romance, struggles, history, mythology and more. The book doesn't have a star character as such. The book doesn't focus on one character but all of them, since they have their own stories to tell.The relationships of the characters brought forth many emotions from the reader..The plot "good vs. evil" but not entirely evil or entirely good. While giving you all of this, it is also well written. I didn't find one thing I Didn't like. Well, maybe one. It ended.

I would give this book 4 HEARTS.



I was given a complimentary copy of SOUL CONTROL by C. Elizabeth from Pump Up Your Book for my personal opinion, No other compensation took place.
Publisher: Wings ePress
Pages: 454
Genre: YA Paranormal
Format: Paperback,
https://www.goodreads.com/book/show/16051999-soul-control?ac=1
http://celizabeth.ca
http://www.amazon.com/Soul-Control-C-Elizabeth/dp/161309891X
http://www.shelfari.com/books/32180136/Soul-Control
http://bemiown.blogspot.com
http://www.PumpUpYourBook.com