4 STARS
A BRIDE FOR KEEPS
Unexpected Brides Book 1
A Novel
by
Melissa Jagears
Published October 1st 2013 by Bethany House Publishers
OVERVIEW
(from Shelfari)
A Tender Tale of Love on the Prairie Perfect for CBA Readers Although Everett Cline can hardly keep up with the demands of his homestead, he won't humiliate himself by looking for a helpmate ever again--not after being jilted by three mail-order brides. When a well-meaning neighbor goes behind his back to bring yet another mail-order bride to town, he has good reason to doubt it will work, especially after getting a glimpse at the woman in question. She's the prettiest woman he's ever seen, and it's just not possible she's there to marry a simple homesteader like him. Julia Lockwood has never been anything more than a pretty pawn for her father or a business acquisition for her former fiance. Having finally worked up the courage to leave her life in Massachusetts, she's determined to find a place where people will value her for more than her looks. Having run out of all other options, Julia resorts to a mail-order marriage in far-away Kansas. Everett is skeptical a cultured woman like Julia could be happy in a life on the plains, while Julia, deeply wounded by a past relationship, is skittish at the idea of marriage at all. When, despite their hesitations, they agree to a marriage in name only, neither one is prepared for the feelings that soon arise to complicate their arrangement. Can two people accustomed to keeping their distance let the barricades around their hearts down long enough to fall in love?
REVIEW
Setting: Kansas 1876
Everett Cline has been humiliate enough. Jilted by three mail order brides, he feels he can't humiliate himself by searching for another helper for his demanding homestead. We all have those well meaning neighbors that just have to butt in just for more than causing trouble. Well, Everett has a well meaning neighbor who brings another mail order bride into town. Everett knows it won't work. He'd already seen her. He thought she was the prettiest little thing ever. She can't be there to marry him, a homesteader. This pretty little thing is Julia Lockwood. She finally decided to leave her life in Massachusetts. She wants people to like her not just the way she looks. She left that life behind, being nothing but a bargaining tool to her father and as far as her former fiance, she was an addition to the business. Julie doesn't have many options, so she becomes a mail order bride in Kansas. Julia is still wary of relationships since a past relationship didn't end well. She is afraid of marriage. She isn't the only one with fears. Everett couldn't imagine why a beautiful, educated woman like Julia would want to live on the prairie. Despite their reserves, they agree to wed in name only. But what is going to happen next. Can they keep their distance for ever? Can they get past their inhibitions and allow themselves to love each other.? Pick up a copy of A BRIDE FOR KEEPS by Melissa Jagears and go to the little town in Kansas. Maybe you'll get to see a wedding. You never know.
I was given a complimentary copy of A BRIDE FOR KEEPS by Melissa Jagears from Bethany house Publishers for this honest review.
I gave this book 4 STARS.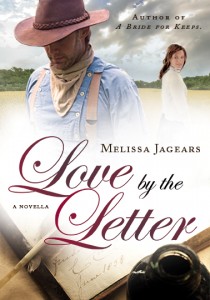 Prequel to the UNEXPECTED BRIDE SERIES
AUTHOR
http://bemiown.blogspot.com
https://www.goodreads.com/book/show/17350829-a-bride-for-keeps

http://www.amazon.com/Bride-Keeps-Unexpected-Brides-

http://www.shelfari.com/books/35686528/Bride-for-Keeps-A-A-novel

http://bakerpublishinggroup.com/bethanyhouse/bookreviewers