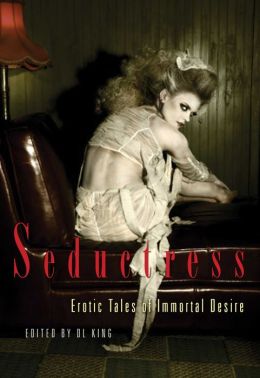 This book contains unsuitable material for under 18. If you are not 18 please, do not read.
SEDUCTRESS EROTIC TALES OF IMMORTAL DESIRE
BOOK DESCRIPTION: (from Amazon)
She's beautiful. She's enchanting. She's mysterious and unfathomable. She's your fondest dream and your worst nightmare. She's sweet and sublimely submissive. She's dark and fully in charge. She's flirty yet mysterious. She promises safety in her arms but there's danger in her eyes. One look, one scent, one taste, one sigh and you're rock hard or dripping wet. She's sex incarnate.
Succub are sexual vampires, women who steal the life force from their victim, but what a way to go! Some say succubi visit their victims in dreams; others say they seduce them in the flesh. Whether your succubus is a shape shifter, has permanent bat wings or wears a mini skirt ; whether her victims are taken unawares, follow her with glee or scream bloody murder as they come, these stories are hot. As hell. REVIEW: I myself thought the book was overly descriptive with a lot of unnecesary adjectives. I thought it would have been better if it would have just been put in plain layman's terms. It does show a small bit of vampirism and also women who are very strong and in control. The author put the succubus in modern settings with the Internet and such, which was quite fascinating. The means and ways that the stories would be of interest to readers who like erotica and the succubus writing. There is a variety of stories where shes intriguing, she's beautiful, candy sweet or very shy, most any way you'd want her. She may just make your widest dream come true and afterwards; the nightmare of your life. She might come to you, or you to her, as a fantastic night, but what about the morning after? You may be in heaven one minute, HELL the next. There's a lot of variety here, so if you're into erotica, succubus, a little mystery, vampires and such, it may be a good read for you. It just wasn't my cup of tea.
I'd give the book 3 STARS.
The cover on this book was fantastic. It couldn't have been any better than it is. I'd give it a 5 STARS.
ABOUT THE AUTHOR: (from Barnes and Noble)
D. L. King publishes and edits the review site, Erotica Revealed (EroticaRevealed.com). She most recently edited the best-selling The Sweetest Kiss: Ravishing Vampire Erotica, and she is the author of two novels, The Melinoe Project and The Art of Melinoe. King's work may be found in anthologies such as The Mammoth Book of Best New Erotica, Best Women's Erotica, Best Lesbian Erotica, Girl Crazy, Frenzy, Yes, Ma'am and Yes, Sir. Find her at DLKingErotica.com.
A complimentary copy of the book was given to me by Night Owl Reviews for my unbiased review.
http://www.nightowlreviews.com
http://bemiown.blogspot.com