Adult-content rating: This book contains content considered unsuitable for young readers 17 and under, and which may be offensive to some readers of all ages.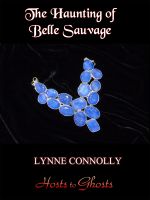 This is the beginning of HOSTS TO GHOSTS. This is a rewritten and revised version of the book published as "The Haunting".
I have a new release!
This one has ghosts, vampires, an old plantation house and lots of action. It's a heavy rewrite of a book I had out years ago, but I've rewritten it so it fits better into the Hosts to Ghosts series.
I've planned more stories for this series, if this one does well, so fingers crossed!
Here's the description and an excerpt.
BLURB:
Jordan Arcenaux wants a divorce after only three weeks of being married. Karey agrees to exorcise Belle Sauvage, a plantation house being renovated into a luxury hotel. But Jordan comes back changed, into a vampire.
Jordan has just been made a vampire and follows his ex-lover to Belle Sauvage to try to save the woman he loves, his wife. She can't be a part of his new life, but trying to push her away, he becomes more desperate to try to save her from himself and Karey. She has made it clear she doesn't want to be saved.
The ghosts of Belle Sauvage are dangerous. They want a treasure lost a hundred years before, a sapphire necklace known as the Blue Star. They want more than that, they want to find a way back to life. They want Karey.
Ghosts in search of a body to inhabit, a lost treasure and a voodoo practitioner turned rogue all conspire against Jordan and Karey finding any kind of happiness together.
In the heat of the Louisiana night, the only thing they can think of and the only thing they want is each other. They are up against impossible odds, but they still want each other.
EXCERPT:
Didiane proved a useful assistant. Her credentials checked out when Karey verified them on the internet, and Didiane certainly knew how to handle the delicate equipment, helping Karey with the long, mostly tedious viewing and listening the following day. They found nothing on any of the cameras, no disturbance that could be definitely explained as paranormal on the tapes, no disturbance in the fine chalk she had sprinkled the night before in the places where people had reported seeing the ghosts. And when she extended her senses, Karey felt nothing. It was all very dispiriting.
They had one more place to explore; the old cemetery near the bayou. On file, Karey had some reports of sightings of Thomas and Susannah Sharman in the deserted piece of wild land there, so the next day Karey set out to explore, a backpack slung across one shoulder. To her surprise, Didiane joined her.
"I thought you planned to sleep in?"
Didiane smiled and fell into stride next to Karey. "Jet lag. I couldn't sleep, so I decided to get up. Nothing happened last night, but I can feel something. There is something in that house, something powerful. Perhaps something dangerous." The soft 'g' in the last word, and Didiane's lilting accent made her almost seductive.
If she was into girls, Karey would have fallen all over her by now. Didiane's jeans fit her like a second skin, lovingly outlining her pert ass, and her long sleeved t-shirt delineated a pair of firm breasts held by the lightest of seamless bras.

Karey became aware of a shadow in her mind, a lustful inclination that surprised her. She loved women, she enjoyed their company, perhaps more than she did the average man, but her one attempt at sharing a lustful bed with one had ended in laughter and a reluctant admittance that it wasn't for her.
In fact, Karey had little time for sex, of any description. Life was far too interesting to waste it in bed. Only Jordan had briefly broken through, giving her some short moments of unforgettable passion that she was doing her best to forget.
Shadows fell across them as they reached the trees at the edge of the cemetery. The account of the sighting here was brief and factual. Still, the change from fall sunlight to dank shadow made Karey shiver. It took her a moment to adjust her eyesight to the new, dimmer light, but Didiane moved without hesitation, walking ahead to the rusty iron gate which predictably squeaked on its hinges when she opened it.

Didiane looked around when Karey drew her gun out of her backpack and clicked off the safety. "Alligators," she explained. "The bayou is just beyond the cemetery."
Didiane nodded and smiled. "You are very wise to be prepared." She didn't seem concerned, but moved between the grey stones as if she belonged there. A strange thought. Didiane was probably younger than Karey, and yet she seemed totally at home here, occasionally stopping to glance at a stone, not stumbling once on the uneven ground.
"Here he is." Didiane paused in front of a large grey stone, and read aloud; "Thomas Sharman, master of Scarlet Oak, died in 1862, survived by none."
Her voice dropped into the damp, cold air like stones into a pond, deadened by the heavy greenery around them. "Is Susannah there?"
Didiane looked around. "Yes, here she is. She shouldn't be here surely. She was a suicide."
"It's a private cemetery. They can have who they want here. I don't suppose Camille is here?"
"Camille?" Didiane glanced over her shoulder at Karey, her straight blonde hair moving sensuously against her cheeks.
"She was a slave, and Thomas's lover. The one who was the rightful owner of the Blue Star, the necklace Thomas stole after he murdered her."
A breeze stirred the leaves above them, but the air drifted into stillness. Didiane smiled. It turned wicked and seductive. Karey moved closer, forgetting everything but that smile. It drew her closely until nothing else mattered. "Ah. The stone. Do you know what became of it?"
"No." Karey moved closer, a dreamlike quality invading her mind.

"Thomas took it from Camille and gave it to Susannah. She killed her children, and then herself, or so the story goes. No one knows what she did with the stone. I think it's long gone."
Karey had reached Didiane's side. Didiane reached over and curled her arm around Karey's waist to draw her closer. "Do you think we could find it?"
Her breath fell sweet on Karey's skin, and Karey felt herself entering Didiane's domain. Didiane moved closer, pressing a soft kiss to Karey's cheek
A male voice cut across the dank clearing. "Leave her alone, Didiane. Let her go!"
Didiane responded sharply without turning around. "I'll do as I please, Jordan. This woman is mine, if I wish it."
Karey had to put a lot of effort into moving her head, but she managed it. It couldn't be true.
Long, lean, dressed all in black with a black leather belt covered in silver studs, Jordan Arcenaux, or his demon doppelganger stood in a shaft of sunlight. His hair, wavy and thick, was cut short, his stance was carelessly athletic. Six foot four of delicious male that Karey had prayed never to see again.
His warning voice sounded dead in the thickly humid air. "I fucking said release her."
REVIEW:
Didiane's firm breasts and pert ass made Karey take a second look. I don't think Karey knows for sure if she is into guys or gals. When Didiane put her arm around Karey's waist, I feel Karey was wanting her. She was wanting that pert ass and those firm breast without the coverings.

But then, she heard the all familiar male voice. It was Jordan Arcenaux, dressed all in black. He told Didiane to leave her alone. I think Karey wanted him too, six foot four of yummy, I could eat you up, male. And then........
"I FUCKING' SAID, RELEASE HER"



Was the connection between Jordan and Karey because he knew what Didiane was capable of and he didn't want that for Karey, or did he really want her, warm and naked beside her or possibly a VAMPIRE?


AUTHOR:
Lynne Connolly writes paranormal, historical and contemporary romance. She loves writing about people who conquer all odds to find love, and will brave anything to do so. She's fought against it, even taken classes, but she's still an incurable romantic. She's the author of the bestselling Richard and Rose historical series, and the STORM and Department 57 series. She's won awards and gained the opportunity to travel, as well as making many friends who are as mad as she is, and enjoy life as much.

I was given a complimentary e-copy of the HAUNTING OF BELLE SAUVAGE from Risque Reviews on behalf of the author, Lynne Connolly for this unbiased review.

http://bemiown.blogspot.com

http://www.goodreads.com/review/list/13488728?shelf=read


















Tags

romance, paranormal romance, erotic romance, ghost story, lynne connolly, hosts to ghosts, the haunting of belle sauvage