If you are not 18, this book is not for you!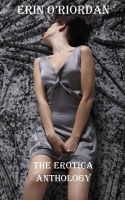 Synopsis: Erin O'Riordan has penned some short stories, articles and film reviews for webzines such as Clean Sheets and the Erotic Woman. She has also contributed to Hustler Fantasies and Playgirl.
This collection of short stories also has a sneak peek of Erin O'Riordan's full length novel, BELTANE, Pagan Spirits, Book 1. Also the previously unpublished "HERBERT".
The collection is quite good. It seems to me it moved rather fast, maybe it was just a fast and furious read. They were fun interesting stories with a big touch of HEAT.
In THE EROTICA ANTHOLOGY there are six short erotic stories and are more than hot and steamy.
The title
s are Herbert, Beltane, Anatomy of a Lesson (A Tribute to
Our Bodies, Ourselves)
, 900, Innocent and Going With the Flow. Anyone who reads erotic stories will find more than one story to satisfy their need. If you are a fan for the heat of desire than you've found the right book.
I especially like HERBERT
Dante Sugar had rust colored hair that gently curled. The curls partially obscured his long, dark curly eye lashes and his brown-green eyes. He had luscious cinnamon lips. You could just eat him up. The descriptions made you a little warm, well, maybe a little hot.
Dante Sugar was arrogant. He kept checking his reflection in the mirror over the bar and smoothing those curls.
He was a full quarter faery on his father's side. Dark creature of the night. I feel somehow, that makes him all the more desirable. Like the bad boy.
Beltane- original short story on which the novel was based occurs in the middle of May. First of Three important harvest festivals on the Pagan calendar.
I received this complimentary e-book THE EROTICA ANTHOLOGY from the author, Erin O'Riordan for this unbiased review.
http://www.goodreads.com/books/show/12123561-the-erotica-anthology
http://bemiown.blogspot.com
The book contains unsuitable content for readers 17 and under and may be offensive to any age reader.